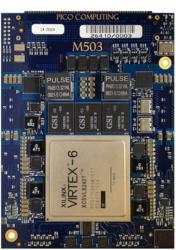 Seattle, WA (PRWEB) November 06, 2012
= Pico Computing announced today that the collaboration with researchers at the University of Washington has yielded up to 90X acceleration of Infernal. Infernal is a software package commonly used to identify Non-Coding Ribonucleic Acid (ncRNA). Infernal can take upwards of a few weeks to complete on commodity CPUs. However, with Pico's FPGA accelerated solution, this identification process has been reduced to less than a day resulting in an up to 90X improvement.
In the traditional model of molecular biology, DNA is transcribed to form RNA, which in turn is translated into proteins. These proteins perform many of the functions essential to biological life. In recent decades, biologists have come to understand the importance of ncRNAs, which directly perform roles normally associated with proteins including regulating genes and catalyzing reactions. Further study of ncRNA may result in breakthroughs in the areas such as cancer, Alzheimer's, and Parkinson's disease.
In the past ten years, the number of modeled ncRNA families identified has increased by two orders of magnitude. Many ncRNA's bases have purely structural roles requiring two potentially distant bases to be complementary. This makes the search for ncRNA more difficult than traditional DNA sequence matching. Growth of these ncRNA families as well as computational complexity of searching genomes for known ncRNA has resulted in runtimes on the order of weeks.
Researchers at the University of Washington, using Pico's M-503 FPGA module, have accelerated algorithms within Infernal. This implementation yielded individual algorithm speedups of up to 200X, for an overall software acceleration of up to 90X.
"The last decade of genome research has yielded a flood of novel non-protein-coding RNAs (ncRNAs) with diverse biological functions, and tantalizing hints of thousands more. Pico's hardware has enabled us to reach new levels of acceleration for key computationally intensive algorithms needed to fully explore this important new landscape," said Dr. Walter L. Ruzzo, Professor at the University of Washington.
Nathaniel McVicar, researcher at the University of Washington, will be presenting this research at the Exhibitor Forum during SC12 (Thursday, November 15th, room 155-B at 11:30AM). To find out more about Pico's products and solutions, stop by booth 2107 during SC12. For product inquiries and pricing, please contact Pico Computing at Contact(at)picocomputing(dot)com.
About Pico Computing
Based in Seattle, Washington, Pico Computing specializes in highly integrated development and deployment platforms based on Field Programmable Gate Array (FPGA) technologies. Applications for Pico Computing technologies include cryptography, networking, signal processing, bioinformatics, and scientific computing. Pico Computing products are used in embedded systems as well as in military, national security and high performance computing applications. For more information about Pico products and services, visit http://www.picocomputing.com.
About University of Washington
Located in Seattle, Washington was founded in 1891. The University of Washington is one the oldest state supported institutions on the West Coast and is one the preeminent research universities in the world.
About SC12
For 24 years, SC has been at the forefront in gathering the best and brightest minds in supercomputing together, with our unparalleled technical papers, tutorials, posters and speakers. SC12 will take a major step forward not only in supercomputing, but in super-conferencing, with everything designed to make the 2012 conference the most 'you' friendly conference in the world. We're streamlining conference information and moving to a virtually real-time method of determining technical program thrusts. No more pre-determined technical themes picked far in advance. Through social media, data mining, and active polling, we'll see which technical interests and issues emerge throughout the year, and focus on the ones that interest you the most.