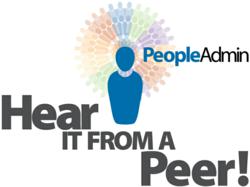 Austin, TX (PRWEB) November 06, 2012
PeopleAdmin, the leading provider of on-demand talent management solutions for higher education and government, will co-host a webcast with the College and University Professional Association for Human Resources (CUPA-HR) entitled "Diversity, Equity and Inclusion, Following a CUPA-HR Roadmap."
Why is everyone talking about the importance of diversity, equity and inclusion when considering the components required for a successful talent management strategy and not just merely as "the right thing to do?" Because we have learned that if you include the input and perspectives of individuals from different backgrounds, genders, cultures, or education you get the "wisdom of the crowd" and can arrive at a decision that stands the best chance for success.
CUPA-HR is challenging its members to take a more mindful look at these concepts in the higher education workplace. So, as part of their commitment to diversity, equity & inclusion, they have developed a series of tools and promising practices that can help an institution jump-start or better coordinate its current diversity work, or explore ways to initiate new coordinated efforts.
CUPA-HR established the inaugural Inclusion Cultivates Excellence Award – recently awarded to Rice University. Thanks to the generous support of PeopleAdmin, CUPA-HR is pleased to offer a $5,000 contribution to Rice University's endowment.
Hear from Elaine Britt of Rice University as she describes their award-winning initiative - Investing in Equity program. Hear their story and gain practical knowledge for your institution.
Webcast Details
Complimentary Webcast: "Diversity, Equity and Inclusion, Following a CUPA-HR Roadmap," featuring Elaine Britt, Director of Benefits & Compensation at Rice University.

Date: Thursday, November 15, 2012
Time: 1:00 pm - 2:00 pm CST
Date: Thursday, November 15th, 2012
Time: 1:00 pm -2:00 pm CST
Director of Benefits & Compensation at Rice University, Elaine Britt develops and manages health and wellness programs for the university and has served both higher education and health care systems as a consultant at SynHRgy HR Technologies (now part of Mercer) and Watson Wyatt Worldwide (now Towers Watson). The panel also includes CUPA-HR Board member and Associate VP of HR at Bryant University, Linda Lull, and PeopleAdmin Marketing Manager, Tommy Siragusa.
About PeopleAdmin
Founded in 2000, PeopleAdmin leads the way in providing web-based talent management solutions for higher education and government. PeopleAdmin solutions enable clients to automate and simplify the hiring process, manage position descriptions and classifications, improve candidate communication and selection, drive a compliant, defensible process and improve reporting methods. Our offering includes applicant tracking, position management, onboarding and performance management. Delivered through a software-as-a-service model, PeopleAdmin solutions are rapidly deployed, easy-to-use and supported through a world-class customer service organization. More than 700 leading organizations throughout North America use PeopleAdmin solutions to gain talent management efficiencies while minimizing risk.