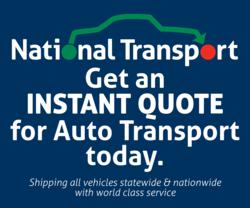 Cocoa Beach, FL (PRWEB) November 06, 2012
Quality over quantity? How about both? Leading auto shipping company, National Transport, is pleased to announce the introduction of even more car shipping options for the Dallas, Texas area. Now, Dallas residents will have more options than ever before when they choose a reliable auto shipping company like National Transport.
Reliable Car Shipping in Dallas
Dallas car shipping is increasing as the city continues to see a steady increase in the number of people relocating for jobs and also as residents still heavily rely on automobiles for their day-to-day activities. Therefore, it only seems to make sense that car shipping would provide a viable option for out-of-towners who are seeking to call Dallas their new home.
Quality Car Shipping; Affordable Car Shipping
Just because people use car shipping doesn't necessarily mean that it is expensive. In fact, car shipping has become more affordable over the years, with everyday people taking advantage of the numerous, affordable shipping deals out there.
Built on a solid foundation, grounded in quality customer service, on-time delivery and professionalism, National Transport continues to pave the way as one of the leading auto transport companies in the United States, for both Dallas residents as well as abroad.
For more information about car shipping in Dallas, or to ask general questions about the auto shipping process, contact National Transport today by calling 1.800.665.5022. Also, make sure you stop by their Facebook page!
About National Transport, LLC:
National Transport, LLC is one of the leading auto transport companies in the United States, providing some of the most affordable car shipping rates in the industry. You can also follow National Transport LLC on Twitter.