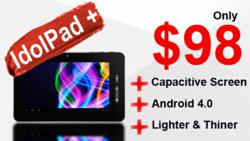 IdolPad Plus is the lowest priced Android Tablet PC that actually works like tablets. With the Android 4.1 update, IdolPad Plus performance will be even better than now
Newport Beach, CA (PRWEB) November 06, 2012
Idolian.com is pleased to announce IdolPad Plus upgrades to Android 4.1, Jelly Beans. Idolian is a tablet PC manufacturer and distributor with its offices in Newport Beach, CA. Idolian's vision is to produce reliable Tablet PC, priced between $100-$299 that any individual or small business can afford.
IdolPad Plus is one of the best selling 7" Touch Screen Tablet PC s in the market. With the price tag of $98, IdolPad Plus comes with 7" Multi-Touch Capacitive Touch Screen, Fast 1.2Ghz Cortex A8, 512 MB and 4GB Flash Drive. IdolPad Plus is the best tablet PC that customers can buy to get true Tablet PC experiences at less than quarter of the price of the Apple IPad. Many consumers are impressed with its superior quality and its low price. IdolPad Plus is best selling Android Tablet PC for Idoilan.com.
IdolPad will be available to upgrade to newest Android 4.1 version by the end of November 2012 using the Firmware updates that will be provided on idolian.com. This upgrade can be performed on all IdolPad Plus.
"We are in a process of perfecting the Android 4.1 upgrades and we are very pleased with the fact that IdolPad will be one of the first tablets that runs on Android 4.1 for less than $100. IdolPad Plus is the lowest priced Android Tablet PC that actually works like tablets. With the Android 4.1 update, IdolPad Plus performance will be even better than now," says the CEO, Jay Kim.
Customers can download firmware updates from idolian.com to update their IdolPad when the Android 4.0 upgrade is available at end of November. Idolian is currently working on all other models upgrade to Android 4.1.
IdolPad Plus is currently available to purchase from idolian.com and all the major online retailers such as Amazon and Sears.com. Thanks to its established retail distributions, Idolian tablet PCs will be widely available at cellular locations throughout the USA and South Korea in the near future.
All of Idolian's Tablet PC s comes with a 1 year limited warranty that is serviced in the USA and offers extended warranties and protection plans for sale only on idolian.com.
About Idolian.com: Idolian.com is division of Idolian Mobile, Inc, Tablet PC manufacturer. Idolian Mobile Inc. is headquartered in Newport Beach, California.
Like its slogan "Tablets for Everyone," Idolian.com's mission is to become a major brand for Android Tablet market that everyone can afford.