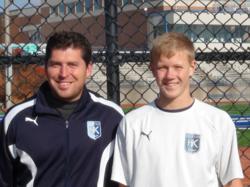 After speaking with both Dan and Brady, as well as watching video of Christian and Grant, the selection was a 'no brainer. These young kickers are outstanding says NCS Founder Michael Husted
San Diego, CA (PRWEB) November 06, 2012
National Camp Series Associates (NCS) Dan Orner of Dan Orner Kicking and Punting, and Brady Beeson of Husted Kicking, have had kicking clients selected to play in the prestigious Eastbay Youth All-American Bowl according to NCS founder Michael Husted.
The Eastbay Youth All-American Bowl consists of two East vs. West all-star games, one for the top 35 seventh graders with no weight limit and a second game featuring the top 35 eighth graders with no weight limit.
Pitting the nation's top seventh and eighth graders against one another in an all-star format, the Eastbay Youth All-American Bowl brings together the nation's top young football talent. This year, the Bowl returns to the Alamodome in San Antonio on Sunday, January 6, 2013.
Two kickers who will be featured at this year's competition are Grant Ryerse and Christian VanSickle. Ryerse is currently working with NCS Coaching Associates Brady Beeson of Husted Kicking and VanSickle is working with Dan Orner of Dan Orner Kicking and Punting.
The selection of Ryerse and VanSickle does not come as a surprise to retired NFL kicker and NCS founder Michael Husted.
"After speaking with both Dan and Brady, as well as watching video of Christian and Grant, the selection was a 'no brainer," says Husted. "These young kickers are outstanding and only prove that the position of kicker, punter and long snapper is becoming more and more specialized at a young age. Our NCS coaching network is 'second to none' and we pride ourselves on ensuring that these young specialists are getting the best coaching in the world, on and off the field."
Orner, who is based out of North Carolina, says VanSickle has worked very hard on developing his kicking technique and he certainly deserves this prestigious opportunity.
"Christian VanSickle is an excellent young kicker that is a true weapon for Marvin Ridge Middle School Football Team in Charlotte NC. He has a strong leg, makes kicks with consistency, and shows great potential for a top college prospect in 4 years," says Orner. "As an eighth grade kicker, Christian already kicks FG's off the ground back to 45 yards, has had multiple touchbacks this year, and has a pro style punting approach that helps him turnover 35-40 yard punts with ease."
Orner adds, "Christian is one of the hardest working young kickers that I have worked with, and most important a great young man. He is the type of student that doesn't ask many questions, but every time you look up at him in a group session he has his eyes glued on you and he's soaking up every word."
Beeson, who is based in Minnesota, has high praise for Ryerse, who will also be appearing at the Eastbay Youth All-American Bowl.
"Grant Ryerse is an exceptional young talent I have been working with out of Woodbury, MN," says Beeson. "He has the tools to be a D1 kicker in the future. His hard work has definitely paid dividends in his young kicking career."
Beeson adds, "Over the last 11 months, we have been able to improve Grant's consistency on field goals and kickoffs, as well as his mental toughness. However, his willingness to work on these things on his own has really paid off. He gets better every lesson, and will be proudly representing Minnesota kickers in this year's Army All-American game. I look forward to working with Grant in the years to come."
Go here for Dan Orner's blog on Christian VanSickle.
Go here for Brady Beeson's blog on Grant Ryerse.
Go here for the NCS Kicking Coach Directory.