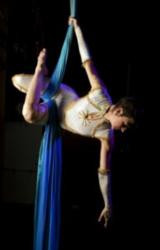 "It's a story of the kid inside all of us who can fall in love with a circus over and over again," said writer/director Sarah-Jane Moody
Santa Fe, New Mexico (PRWEB) November 05, 2012
A Thanksgiving weekend tradition since 2002, Circus Luminous 2012 will again feature acrobats, trapeze artists, stilt-walkers, clowns, and dancers. The production is written and directed by Wise Fool New Mexico's Sarah-Jane Moody, with original music composed by Jeremy Bleich, and features local performers from Wise Fool New Mexico, Moving Arts Española, and 3 HC Holy Faith, the break-dancing ensemble from Chimayó. This event is featured on Santa Fe's premier on-line visitor guide SantaFe.com.
This year's production follows fictional reporter Charlie Sparrow (played by Santa Fe resident Rod Harrison), who is assigned to travel with the Luminous Family Circus and write about its 10th anniversary show. He's not very happy about the situation.
"He wants the real news, but he's assigned to cover this thing, so what can he do?" said writer and director Moody.
On the road, Charlie finds himself surrounded by frolicking circus performers who travel by unicycle, do aerial acrobatics while setting up camp, and go tightrope-walking on the lines they use for drying laundry. Though he's grumpy at first, eventually even Charlie discovers the beauty and magic of the circus.
Moody, who performed in all nine previous Circus Luminous productions and wrote and directed one of them, said Wise Fool played with several ideas about what to do for the 10th anniversary show, but ultimately decided a simple story would work best. "It's a story of the kid inside all of us who can fall in love with a circus over and over again," said writer/director Sarah-Jane Moody
About Rod Harrison
Actor Rod Harrison last performed in Santa Fe in 2011, in Ironweed Productions' American Buffalo. He's worked with Theater Grottesco since 1996 and has also worked with Sideshow Physical Theater and Dandelion Dancetheater in San Francisco.
Sponsorship
The Lensic and Wise Fool New Mexico thank Los Alamos National Bank for their generous and long-standing support of Circus Luminous.
About Wise Fool New Mexico
It is Wise Fool New Mexico's mission to ignite imagination, build community, and promote social justice through performances and hands-on experiences in the arts of circus, puppetry, and theatre.
About The Lensic Performing Arts Center:
The nonprofit, historic Lensic Performing Arts Center presents more than 200 events year-round, including theater, music, dance, spoken word, film and lectures. Through Lensic Presents, education programs, and community sponsorships, The Lensic is a major partner and supporter of Santa Fe's nonprofits, artistic organizations and schools. For more information on the many presentations and programs of The Lensic, visit http://www.lensic.org.
EVENT DETAILS
10th Annual Circus Luminous
November 23-25, 2012
Time: Friday, November 23, 7 pm; Saturday, November 24, 2 pm & 7 pm; and Sunday, November 25, 4 pm.
Tickets: $10-$30 (discounts available for students and Lensic members). Tickets are available by phone at 505-988-1234, online at http://www.lensic.org or http://www.TicketsSantaFe.org, or in person at Tickets Santa Fe at The Lensic, 211 W. San Francisco St.
About SantaFe.com:
SantaFe.com provides locals and visitors to Santa Fe alike the most current interactive platform for events, music, arts, business, dining and lifestyle. SantaFe.com is a division of Hutton Broadcasting, located at 2502 C. Camino Entrada, Santa Fe, NM 87507
Contact Information:
Scott Hutton
SantaFe.com / Hutton Broadcasting
http://www.santafe.com
(505) 471-1067 (Media inquiries only, please)