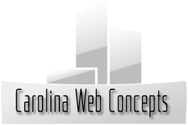 CHARLOTTE, North Carolina (PRWEB) November 09, 2012
62% of North and South Carolina small businesses do not have a website. This comes at a time where over 90% of people research online before buying. This unfortunate 62% need not look further. Focused on client support and service, Carolina Web Concepts (http://www.carolinawebconcepts.com), a newly formed yet experienced web design company based out of Charlotte, has introduced progressive online business solutions for clients on a local scale.
"Carolina Web Concepts has the right mix of creative web designers and highly-trained web developers for its local clients who need solutions for their web development projects. We are also highly experienced in online marketing and business. This is especially important now when people utilize a wide range of Internet enabled devices to access the products and services they want to buy," says a company spokesperson.
One thing that separates Carolina Web Concepts is old fashioned customer service. "I called at least 10 Charlotte web designers without receiving one call back" states Alex Dulepov of Carolina Wood Floors off of Clanton Rd. "That is the problem."
It is no secret that having a bad website or no website is devastating to bottom lines of small business. It is impossible to compete in this day and age without online presence and effective web marketing. Carolina Web Concepts aims to provide these services in a different way. By offering a wide range of low-cost internet business services to anyone across the USA, with free travel all over North Carolina and South Carolina, they want to change the game. So far, it is working.
"The design options, along with our web hosting and refresh services are very attractive to small businesses" states the VP. "The fact that we take the time to get to know our clients and their needs, know the Carolinas and know the business has helped us help a lot of businesses here." Most of CWC's clients hail from Charlotte, Greensboro, Columbia and Charleston but they service everywhere from the coast to the mountains.
Carolina Web Concepts welcomes it's clients to call 704-906-0742 or visit: http://www.carolinawebconcepts.com to learn more about what they can do for your business.