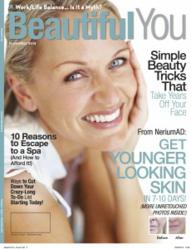 DALLAS, TX (PRWEB) November 06, 2012
Favorable Nerium reviews are plentiful, as this is the latest accolade for a company that has been featured in several publications after breaking sales records in its first year. That's what happens when a product is clinically proven to make a significant impact on the appearance of aging skin.
In assessing the reasons for the popularity of this product, Nerium International's Founder and CEO, Jeff Olson, points to the Nerium skin care science behind the company's flagship product, NeriumAD. "While researching the uses of the Nerium oleander plant, Nerium Biotechnology, Inc. made an accidental discovery: Nerium oleander possesses unique qualities that produce remarkable age-defying results when applied to the skin. By partnering with Nerium Biotechnology, we're able to bring an exclusive product to market. Our purpose is to build a global brand of breakthrough products in the anti-aging skincare market."
In third-party clinical trials with globally renowned ST&T Research, NeriumAD produced a 20%-60% reduction in the appearance of fine lines, wrinkles, and discoloration. This revolutionary breakthrough has resulted in high customer satisfaction, fantastic Nerium skin care reviews, and exponential growth.
As Nerium oleander has never before been harnessed in skincare products, NeriumAD has been subjected to extensive safety testing. At the recent North American Congress of Clinical Toxicology (NACCT) meeting, there were discussions about the safety of NeriumAD. View the Nerium video of the panel discussion now.
In a memo about the NACCT meeting, Nerium Biotechnology's CEO, Dennis Knocke, shared that a leading MD, Ph.D., medical pharmacologist and toxicologist reported the following regarding the safety of NeriumAD: "As a result of the studies, the study design, and data captured, NeriumAD has no evidence of toxicity and no absorption into the systemic circulation." Read the full memo from Knocke.
Nerium International has been highlighted in an array of publications, including being the youngest company to ever be featured in industry leader Success from Home magazine. Nerium reviews are glowing, and appearing in Beautiful You will likely lead to more of the same.
Amber Olson Rourke, vice president of marketing and culture for Nerium International, says, "Beautiful You is a third-party publication geared toward women. It provides inspiration on a wide range of topics, such as beauty, fitness, career, health, and personal development, to help you be beautiful both inside and out. We are honored that they chose NeriumAD to be their featured product for their premiere issue."
Read more about the science behind Nerium skin care and NeriumAD, and share that post with friends.
About Nerium International
Nerium™ International, LLC, headquartered in Addison, Texas, markets breakthrough products validated by science. In 2011, the relationship marketing company partnered with Nerium SkinCare™ Inc. (a subsidiary of Nerium Biotechnology, Inc.®), to deliver the NeriumAD™ skincare line. These first-of-their-kind products – clinically proven to reduce the appearance of fines lines and wrinkles – are the result of leading-edge research into the Nerium oleander plant and its age-defying results when applied to the skin. Led by an executive team with more than 150 years of collective experience, Nerium International is committed to developing and distributing skincare products that are rooted in real science and produce real results that improve consumers' lives. For more information, please see http://www.nerium.com.