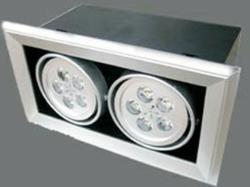 (PRWEB) November 16, 2012
Zhongtian Lighting, a LED down light manufacturer in China, has introduced the new product [ZT-BG-10W] to customers all over the world. The new led down light uses 90 per cent less energy than a halogen light, which significantly reducing power consumption and helping to achieve global energy conservation goals.
The new hall and high rack luminaries ensures an efficiency of more than 100 lumen/watt at a life time of up to 50000 hours and the low heat development and reduced energy consumption, which are typical for LED luminaries. The optimized LEDs combined with highly efficient lens arrays achieve a homogeneous illumination without scattering losses and an increase in brightness by a factor of two. This luminary is suitable for new installations as well as for conversion and replacement projects. In addition, the enhanced heat management and patented LED driver generate very little heat, transferring most of the energy directly into light and eliminating excessive heat build-up that can adversely affect energy costs. The LED down light are CE, FCC and RoHS certified. The LED down light [ZT-BG-10W] is designed to be used for commercial situations, large atriums or larger communal areas. It has a unique design that offers a very high 1000 lumen light output from the 10 x 1 watt LED configuration, using warm white 3000k LED's, making it an ideal fluorescent, halogen or metal halide lighting alternative.
A high quality light weight heat sink has been developed for the rear of the down light that ensures any heat produced by the LED's is dissipated effectively without compromising on performance. Zhongtian Lighting develops highly compatible lenses with an 85% light transmission efficiency, which caters to different kinds of light sources and deliver a more uniform light pattern. Besides, all LED lamps of Zhongtian Lighting come with 3 years warranty.
The company makes improvements to the thermal design so that it becomes possible to efficiently release heat from each component of the power supply circuit inside the heat sink. As a result, it became possible to use the slimmer heat sink. The radiation performance of each component of the power supply circuit was improved by closely attaching radiation sheets to it. For more information, please visit its website at http://www.ledlampshopping.com/category-30-b0.html.