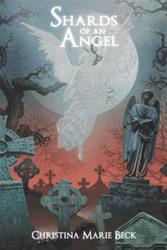 Keep the boxes small and the memories sweet
Folsom, CA (PRWEB) November 07, 2012
Any parent knows that there is no more unimaginable pain than losing a child, and it is that pain that author Christina Marie Beck explores in her new novel "Shards of an Angel" (published by Abbott Press).
While running errands with her 8-year-old son, Garrett, Deputy Sheriff Krysta Jamison lets him out of her sight for no more than a moment. In that moment, her little boy is kidnapped. Krysta initiates a desperate, relentless search – only to find him too late: her little boy has been murdered.
An excerpt from "Shards of an Angel":
"Eight small boxes sat in front of her, one for every year. David had asked her not to keep too much, because it would be impossible to go through all the memories at one sitting if mourning prescribed a trip down memory lane.
'Keep the boxes small and the memories sweet,' he had said.
Typical. It was a logical, emotionless solution to eight years of memories. Yeah, right! She didn't see him in here keeping it short and sweet. He had left it to her."
Despite the breadth of the mystery genre, Beck knows that her book offers something unique to readers. "Most characters today are either lawyers, or detectives either public or private," she writes. "My character is first a mother and a wife then a deputy sheriff. She is an ordinary woman with skills to track a killer then as most of the other characters 'move on' Krysta's grief is real, raw and intense bringing the reader into her life like an old friend."
About the Author
Christina Marie Beck is a retired 15-year veteran of the Sacramento Sheriff's Department in Northern California. Her last assignment was at the county courthouse, where she served as a custodial officer and bailiff. She is married with one son, one cat and lives in Folsom, Calif.
Abbott Press, a division of Writer's Digest – the oldest and most respected publisher devoted to the education and advancement of writers – is an indie-publishing imprint dedicated to helping writers bring their literary vision to print. Author Solutions, Inc., a leader in indie book publishing, will fulfill publishing, sales, and marketing services for Abbott Press. For more information, or to begin publishing a book today, log on to abbottpress.com or call 866-697-5310.
###