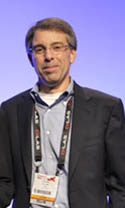 The panel examines technologies, applications, and markets that are good for the planet as well as robust and resilient.
Bellingham, Wash. (PRWEB) November 05, 2012
The business impacts of new photonics technologies to reduce energy consumption in homes, businesses, and data centers and to provide efficient renewable energy sources within the next 5-10 years will be discussed in an executive panel at SPIE Photonics West in San Francisco in early February.
The panel discussion on Emerging Growth Opportunities in Sustainable Technology will provide insights on high-growth markets that are attracting capital investment, driving product development, and creating new high-value jobs and revenue.
Moderated by Steve Eglash, Executive Director of the Energy and Environment Affiliates Program at Stanford University, the event is part of the Green Photonics virtual symposium at SPIE Photonics West. Registration to attend the panel is free of charge, and also includes access to 1,200 companies in the Photonics West Exhibition and to other industry events.
"The panel examines technologies, applications, and markets that are good for the planet as well as robust and resilient," Eglash said. "This year's panelists include entrepreneurs providing solar-powered LED lighting to the developing world, sophisticated spectroscopy for environmental monitoring, and solid-state lighting, plus a venture capitalist and a leading university researcher with particular interest in optics and photonics."
The five-member panel of industry leaders will address topics such as solid-state lighting and displays, laser-assisted manufacturing and micro- and nanofabrication and renewable energy generation and photovoltaics. Panelists include:

Patricia Glaza, Principal at Arsenal Venture Partners with over 20 years implementing and commercializing advanced technologies and founder of the Clean Technology and Sustainable Industries Organization, which works with government agencies including the Department of Energy and ARPA-E to identify and promote technology solutions in energy, water, and overall sustainability.
Thomas Baer, Executive Director of the Stanford Photonics Research Center, a pioneer in areas of biotechnology and laser development with applications, such as AIDS monitoring, bone marrow transplant therapy, and blood supply quality, and the holder of more than 50 patents.
Leslie Silverthorn, CEO and cofounder of Angaza Design, whose mission is to combine human-centered design with innovative technology to reshape the global energy market. A product designer and mechanical engineer from Stanford University, she has extensive product experience, including work on the first three generations of the Amazon Kindle.
Eric Crosson, CTO of Picarro, Inc., a producer of gas analyzers with applications such as atmospheric science, greenhouse gas measurement, air quality, food safety, hydrology, biomaterials testing, and ecology. While at Stanford, Eric developed a number of key cavity ring-down spectroscopy techniques. Eric has been a project manager at the Triangle Universities Nuclear Laboratory at Duke University where he helped lead the design and construction of an atomic beam polarized ion source
Jyoti Bhardwaj, Vice President of Technology Research and Development at Philips Lumileds Lighting, a pioneer in the use of solid-state lighting solutions for outdoor, home, and office applications.
In addition to the panel and other free events, the Green Photonics Symposium also includes more than 65 papers on various aspects of green photonics research, organized around four topics:

Solid State Lighting and Displays
Laser-assisted Manufacturing and Micro/Nano Fabrication
Communications
Renewable Energy Generation and Photovoltaics.
Access to technical presentations is included with conference registration. For details and to register, visit the Photonics West website.
About SPIE
SPIE is the international society for optics and photonics, a not-for-profit organization founded in 1955 to advance light-based technologies. The Society serves nearly 225,000 constituents from approximately 150 countries, offering conferences, continuing education, books, journals, and a digital library in support of interdisciplinary information exchange, professional growth, and patent precedent. SPIE provided over $2.7 million in support of education and outreach programs in 2011.