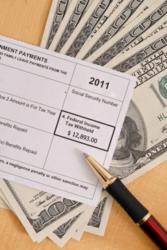 Many believe that increasing taxes for the wealthy will decrease budget deficits and government debt. As you will see, the issue is much more complex.
New York, NY (PRWEB) November 06, 2012
Investment Contrarians, an e-letter of Lombardi Publishing Corporation, a 26-year-old consumer publisher that has served over one million customers in 141 countries, reports that budget deficits continue to grow, increasingly due to tax evasion. If governments around the world could rein in tax evasion, they could get a better grasp on their growing levels of government debt, and significantly tame austerity measures.
In a recent Investment Contrarians article, Senior Financial Analyst Sasha Cekerevac notes that government debt around the world is growing because of high budget deficits. Since taxes are the main source of revenue for governments, a slow economy means less revenue from income tax; this, in turn, leads to increased budget deficits and government debt.
This year, the American tax gap is likely to approach $300 billion, or nearly 15% of federal revenues. All told, as many as 30% to 40% of Americans won't pay all of the taxes they owe in 2011. (Source: Green, S.P., "Why Do People Cheat on Their Taxes?" CNBC Guest Blog, April 11, 2011.)
In California, tax collectors say the state's $9.2-billion deficit could be eradicated if all taxpayers submit what they owe. Unfortunately, full compliance never occurs. (Source:
Yamamura, K., "If California's taxpayers paid up, state's deficit would disappear," The Sacramento Bee April 7, 2012.)
"This is not just a problem here in America. It's become a big global issue," says Cekerevac. "Many believe that increasing taxes for the wealthy will decrease budget deficits and government debt. As you will see, the issue is much more complex."
According to Cekerevac, a recent study found that approximately 70% of Greeks underreported their income. The results from the study showed that undeclared income totaled in excess of 10% of Greece's gross domestic product (GDP) for 2009, or 28.0 billion euros. Because this income was not declared, Cekerevac says, the Greek government lost 11.2 billion euros in taxes, or approximately four percent of GDP. (Source: "Wealthy Greeks Still Don't Pay Taxes," Der Spiegel, November 1, 2012.)
"That is a truly staggering amount relative to GDP, which is exacerbating the budget deficits and growing government debt. The illegal act of tax evasion hurts the entire economy and a large percentage of the population," Cekerevac observes.
As reported in Cekerevac's Investment Contrarians article, the same report found that only 200 people in Greece earn over 500,000 euros. The public's call to the raise taxes on the rich would do virtually nothing. Who are the biggest tax evaders? The report cited lawyers, journalists, entertainers, and doctors as being the biggest culprits.
Cekerevac adds, "What can be done to curb tax evasion? Raising taxes won't do much if 70% of the public doesn't disclose their full income. It may be controversial, but many countries could take a bite out of tax evasion if they had an electronic currency. If there is no paper and transactions are recorded electronically, then the government can track every dollar within the economy. With the debit system, we are already moving in this direction."
"Of course this raises privacy issues and the notion of Big Brother. In countries like Greece, where budget deficits are out of control and government debt is skyrocketing, having 100% of the public report their actual earnings would be a big step in helping the country's economic situation. This would mean fewer austerity cuts, as revenue would increase without raising the tax rate," Cekerevac states.
According to Cekerevac, the U.S. also has out-of-control budget deficits, but its problems are quite different. According to a 2005 Legislative Analyst's Office report, taxpayers report about 99% of their wage income as employers withhold taxes and document income on W-2 forms. But, when people self-report their income, compliance drops below 70%.
He concludes, "If we want to cut down on tax evasion perhaps we need to revamp the way our taxes are reported. It might mean taking a different route than Greece does, but the end result will be the same; increased revenue and fewer austerity cuts."
Founded in 1986, Lombardi Publishing Corporation, which has served over one million customers in 141 countries, is one of the largest consumer information publishers in the world. For more information on Lombardi Publishing Corporation, and to get its popular Investment Contrarians e-letter sent to you daily, visit http://www.investmentcontrarians.com. Or visit http://www.lombardipublishing.com/customer-service.html.