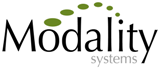 "Alex has an exemplary track record" said Lamb, "he is a technical leader in the UC industry and a top consultant. We're delighted to have him join the Modality team."
Seattle, WA (PRWEB) November 06, 2012
"Our continued investments in North America further strengthen our ability to meet the growing demands of our customers," noted John Lamb, president and co-founder of Modality Systems. "Deepening our US presence is just one part of our strategy as the premier provider of Microsoft Lync services, solutions and products globally."
Modality Systems is pleased to name Alex Lewis, a seasoned unified communications professional, well-respected author and public speaker, as the company's new principal consultant.
"Alex has an exemplary track record" said Lamb, "he is a technical leader in the UC industry and a top consultant. We're delighted to have him join the Modality team."
"I am really excited to have Alex join Modality Systems," said Melinda Curtis, vice-president of Modality Systems, North America, "Alex is customer centric and renowned for a his passion and the sharing of best practices through his speaking engagements and publications - Lync Server 2013 Unleashed due to release Q1 2013 and its predecessor Lync Server 2010."
"Modality is a unique company that blends industry leading technology with passionate people to drive innovative communications solutions," said Alex Lewis. "I'm excited to join the team and to build on Modality's existing global success in services, software and solutions. There is no doubt we will continue to drive success within the North America business and around the globe."
About Modality Systems
Modality Systems was founded in 2007 with Global Headquarters in St. Albans, UK and North America Headquarters in Kirkland, WA, US.
At Modality Systems, we combine deep technical expertise with a professional consulting approach. We work with our clients to optimize their existing investments and the value of Unified Communications. Our product offerings include: iDialog, SuperToast, TimePrompt, CRM Enhance, our LyncMe product family and custom solutions using the Communications Enabled Business Processes (CEBP) Accelerator.
For more information, visit us at http://www.modalitysystems.com
For more information on Lync 2010 Unleashed and Lync 2013 Unleashed, visit Pearson Publishing at http://www.informit.com/store/microsoft-lync-server-2010-unleashed-9780672330346