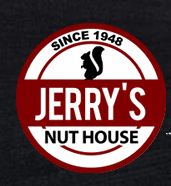 Not only does each and every one of these items taste good, but they look good too.
Denver, CO (PRWEB) November 06, 2012
Officials with Jerry's Nut House announced today that its holiday gift jars are now available for purchase.
"We're extremely excited about the availability of our Xmas items," said Nick Julia, Internet marketing manager for Jerry's Nut House. "Each year we look forward to providing our customers with a variety of options just in time for the holidays. This year we've created a variety of holiday jars that make great gifts for friends, family, and even for your personal enjoyment."
Julia explained that the company has created a special page on its web site for customers to purchase the Christmas items. Those items available for purchase include: The large cashew jar, dark espresso bean jar, mint chocolate cookie malt ball jar, extra-large pistachio jar, chocolate raspberry truffle jar, and the Cinnamon Santa jar.
"Each item is wrapped with a red bow to signify the Christmas holiday," Julia said, before adding, "Not only does each and every one of these items taste good, but they look good too."
Jerry's Nut House, which has been honored by Celebration Media, U.S. (CMUS) as one of its 2011 Talk of the Town Award Recipients in the category of top Candy Stores, described its Xmas gift item selections as the tastiest on the market today.
"We put a lot of thought into the items that we've chosen for our holiday gift items, because we know that often times, when it comes to holiday snacks, etc., many just don't taste good," Julia said. "We want everyone to know that each and every one of our Xmas holiday gift items taste great, so they don't have to worry about buying something that no one will want or see sitting at that person's home a year later. These are melt-in-your-mouth, tasty holiday items."
A Jerry's Nut House customer identified as Heather, described the company as a great place for all your holiday needs.
"I've been going to Jerry's Nut House for about 20 years and there is always something for everyone," she said. "Almonds, cashews, candies, dried fruit, chocolates, popcorn, other random sweets, gift trays and baskets and so many other things to choose from. If you have no idea what to get someone for a gift, or have to get your co-workers something, this is a great place to try. I actually did some Christmas shopping here. The workers are very friendly and helpful and I can't help but love the squirrel and nut clock that ticks away in the background."
For more information, please visit: jerrysnuthouse.com/gift-jars/
About Jerry's Nut House
Jerry's Nut House was founded in Denver by Jerry Levine and his wife, Roie.
Jerry first got the idea for the business when he came home from serving in the Army during World War II and began attending the University of Denver.
While he was a student at the University of Denver, to help support himself Jerry worked part time with his brother delivering snacks like Atomic Pickles, deviled eggs and nuts.
The nuts so intrigued Jerry that he began studying how they were grown and processed. Then after he finished college and stopped working with his brother, Jerry decided that nuts were his real passion.
Jerry began buying, roasting and selling nuts throughout the Rocky Mountains.
Today, more than 60 years later, Jerry's Nut House has become well-known for its attention to detail and high standards in producing freshly roasted nuts and other snack items. Search for us on Google: http://goo.gl/inXLr
###