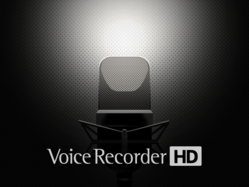 Voice Recorder HD iCloud Sync. Take a record at meeting it will available on your other iCloud devices.
Saitama, Japan (PRWEB) November 07, 2012
eFusion today is pleased to announce the release of Voice Recorder HD 6.2 for iPhone, iPod and iPad with exclusive new features like very large file trimming, additional playback controls and sharing. The major update on this version is to improve after recording experiences. Voice Recorder HD is a high quality recorder for the business person, journalist, audio professional, sound engineer, and anyone else who needs to manage/share voice memos with simplicity.
It is the #1 downloaded voice recording application for iOS in USA, Japan, Russia Appstore from the first release of iPad. Also featured by Apple as "What's Hot" in all category, listed in 2010 best applications, Japan.
The new version featured with highly efficient trimming algorithm which can trim any size of voice memo file. Tested with 21 hours 21 minutes 14 seconds long recorded voice memo. It works flawless. To improve voice memo listening experience, more playback buttons also added for fast, slow, rewind and forward control.
Voice Recorder HD also allow to upload recorded files to SoundCloud, Dropbox and sync through iCloud. If you love to share your recorded audio tracks to social networks then you can do it with Voice Recorder HD too. Recorded heigh quality audio tracks can be easily upload to SoundCloud as well as share on Twitter, Facebook, Tumblr, Foursquare through SoundCloud by enabling all this services inside the application.
Voice Recorder HD supports background recording while using other apps on iOS. Reading or writing Email, Note, using Calendar, Maps, listening music likes apps can be use at the time of recording.
It is a must have app for every iOS device featuring the quickest, unlimited high quality audio recording, gorgeous UI and easy of operation for daily productivity.
It is Unique For:

Audio quality
iCloud sharing (iOS 5 and above)
Dropbox upload and SoundCloud sharing
Audio files Export/Import over the USB (*.wav only)
Stunning and simple user interface
Supports any OS(Mac,Windows,Linux, etc) to play
Accessibility support for people with disabilities
Pricing and Availability:
Voice Recorder HD 6.2 is $1.99 USD (or equivalent amount in other currencies) and available worldwide exclusively through the App Store in the Business category. Review copies available on request.