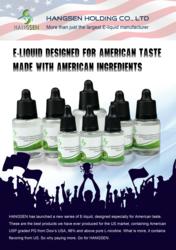 These are the best products we have ever produced for the US market, containing American USP graded PG from Dow's USA, 98% pure L-nicotine. What's more, it contains flavoring from US
Shenzhen,China (PRWEB) November 12, 2012
Hangsen, world's largest e-liquid manufacturer, is excited to announce its new range of amazing US e-liquid designed especially for American taste.
This range of e-liquid offers rich flavors and strong vapor sensation tailored to US consumer taste. "This is the one I know our customer will really enjoy because it's totally innovative in flavors" said Jide Yao, CEO of Hangsen Holding Co., Ltd, " There are 50 flavors for our customers to choose from. Moreover, much research and investment on facilities have been made to guarantee the safety and quality of the e-liquids, while maintaining our competitive prices."
"These are the best products we have ever produced for the US market, containing American USP graded PG from Dow's USA, 98% pure L-nicotine. What's more, it contains flavoring from US" Jide Yao added, "Our main goal is to create a more user-friendly customer experience so that everyone can have a great e-smoking life. We value all feedbacks which will help us design more flavors".
So why paying more. GO FOR HANGSEN.
About Hangsen
Hangsen is world's largest manufacturer of E-liquid. The company is working with the top retailers worldwide to help local governments understand E-liquid and create regulations.