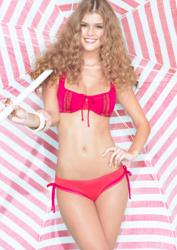 We are very selective when choosing what styles to offer our customer. We only offer the best. We are all about quality not quantity.
Thousand Oaks, CA (PRWEB) November 06, 2012
Officials with Azura Swimwear announced today the release of it new 2013 Maaji swimwear styles.
"We are here to offer women the very best selection of designer swimwear at competitive prices," said Jennifer Tinnin, owner of Azura Swimwear.
The new swimwear line features styles such as raspberry delight, French flamenco, sour popsicles, flowery promenade, cherry reve, raspberry macaron, tangerine ruffles, blossom melody, peachy summer, and more.
Born out of Colombia, Maaji Swimwear, according to Tinnin, draws its inspiration from the rich cultural tapestry of the country, from its exotic forests to its wind-swept beaches.
Tinnin explained that the passion that the country is best known for is seen in every Maaji swimsuit, which is vibrant colors, eclectic combinations and stunning detailing.
In fact, the company owner stressed, it's the mix of colors, shapes, silhouettes and textures that defines Maaji Swimwear (http://www.azuraswimwear.com//swimwears/maaji.html ) and sets it apart from the crowd.
Tinnin went on to point out that the new swimsuit styles are perfect for lovers of fashion and those who have a creative flair.
Azura Swimwear, which was recently referenced in Vogue Magazine, is described by company officials as a small boutique that offers more of a personal experience.
"We stay competitive by offering the lowest prices online," Tinnin said. "We are very selective when choosing what styles to offer our customer. We only offer the best. We are all about quality not quantity."
When it comes to what makes Azura Swimwear different from everything else on the market, Tinnin said sophisticated design and streamlined functionality is what stands out.
"Combining elegance and ergonomics, we've ensured that our site is just right," Tinnin said. "Large images, multiple views, a sophisticated, summer color palette and a spacious, inviting feel are just a few of the features we've incorporated into Azura's intelligent design. Have a look for yourself, and you'll see what we mean by spot on."
For more information, please visit: AzuraSwimwear.com
About Azura Swimwear
As an online retailer of designer swimwear, Azura provides you with all the conveniences of online shopping. Yet with Azura, you'll enjoy them with a touch of chic sophistication.
At Azura, we understand that swimwear is more than just something to wear to the beach – it's a statement of style – and that buying that perfect bikini or cover-up is about more than just purchasing it.
From our boutique setting and elegant design, to our unparalleled customer service, Azura goes above and beyond other online stores to give you that unforgettable shopping experience. Search for us on Google: http://goo.gl/0zw7t
Contact Details:
Azura Swimwear
139 Helecho Court
Thousand Oaks, CA 91362, USA
Tel: 310-775-7470