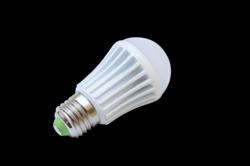 (PRWEB) November 17, 2012
Zhongtian Lighting, a leading LED light manufacturer in China, introduced its 80W LED flood light with an outstanding design. This high powered floodlight is visually attractive and creates a warm welcoming atmosphere in a usually dark uninviting place. Choice from a bright white or a softer option to highlight the property, illumination is essential for security, safety and convenience making everyday tasks more practical.
The LED flood light uses lower power consumption to produce bright white light. The white beam of light produced by LED flood lights is very much similar to daylight. This makes it very easy to see and retrieve items. When used in stadiums, it makes the spectators feel as though it is day time. Emitting no heat, UV or IR light radiation, the [ZT-FL-80W] LED flood light is extraordinary in providing glare free and energy-saving lights compared to traditional lamps. It outputs 9600lm-10800lm with a luminous efficiency of 120lm-135lm.
LED floodlights can reduce electricity usage by up to 80% leading to lower bills at the end of the month. Being eco-friendly delivers peace of mind by helping the environment as LED lighting contains significantly lower carbon dioxide emissions and no mercury. Overall, this is a highly energy-friendly alternative. LED flood lights are in use in many areas such as warehouses, perimeters of houses, theaters, playgrounds and stadiums. These lights have several benefits to offer users, especially when compared to standard incandescent, CFL or halogen lights.
Zhongtian Lighting is devoted to enriching its production line and improving the quality of product not only in lifespan but also in its appearance. The innovation and R&D is the crucial point of Zhongtian Lighting. OEM and ODM service are also available. Other products such as LED bulb, LED down light, LED flood light, LED high bay light are covered under its production line, and turning out Zhongtian Lighting is a comprehensive and specialized manufacturer. Zhontian Lighting welcomes enquiries from distributors, wholesalers, and retailers in order to bring it worldwide. For more information, please visit its website at http://www.ztlights.com/LED-Flood-lights.html.