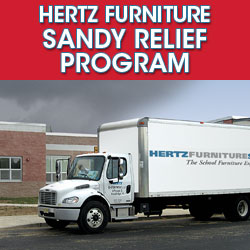 We have teamed up with key suppliers to help people regroup, rebuild, and restore a sense of normalcy as soon as possible.
Mahwah, NJ (PRWEB) November 06, 2012
In the wake of Hurricane Sandy, Hertz Furniture has announced its Sandy Relief Program, providing immediate aid to educational institutions and others affected by the devastating storm. Moved by the plight of schools and individuals who have sustained costly damage, Hertz Furniture has partnered with six leading furniture brands to help those in need get back on their feet and recover more quickly.
From now through Thanksgiving (November 21, 2012), schools and others affected by the storm in VT, RI, MA, CT, NY, NJ, PA, MD, DC, VA and WV are being offered 20% off the price of over 1,100 school and office furniture items. The discount is available by phone order only. Customers and others can contact their local Hertz Furniture representative or the Hertz Furniture Sandy Relief phone number at 888-494-3314. Recognizing that furniture is needed now, Hertz Furniture and their partners are committed to shipping out these orders as quickly as possible.
Partnering with Hertz Furniture in this relief effort are Academia Furniture, Amtab Eurotech, National Public Seating, Oklahoma Sound Corporation and Screenflex.
Through Thanksgiving, Hertz Furniture has also pledged to donate a portion of all sales to The American Red Cross Disaster Relief Fund. Customers can choose from a wide variety of school and office furniture including classroom furniture, cafeteria tables, casegoods, teacher desks, task and office seating, folding tables, folding chairs, lecterns, podiums and mobile partitions.
"We were all caught off guard by the wrath of Hurricane Sandy and realize that schools and others did not budget or plan for new furniture at this time," says Hertz Furniture President Saul Wagner. "While we cannot reverse the destruction incurred by the storm, we have teamed up with key suppliers to help people regroup, rebuild, and restore a sense of normalcy as soon as possible. The discount and quick ship are the least we could do."
About Hertz Furniture:
For over 45 years Hertz Furniture has supplied schools, religious institutions, businesses and government offices with top quality commercial furniture and superior customer service. Speedy Quotes, Quick Ship products, a wide selection of Eco-Friendly furniture, a free Project Planning and Design service and the best warranties in the industry are just a few of the ways that Hertz Furniture provides added value to its customers. For additional information on Hertz Furniture and its extensive line of products, please visit Hertz Furniture, speak to a furniture specialist at 888-802-6549, or send an email to jonathanyunger(at)hertzfurniture(dot)com.