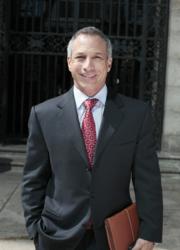 "There is no work more important than finding a cure for children's cancers... I urge everyone to go online and support the B+ foundation by voting for Ali."
Dover, DE (PRWEB) November 07, 2012
Brad Barros, and Josh Gottlieb, Managing Directors of Attainium Capital Development Advisors, LLC honor The Andrew McDonough B+ (Be Positive) Foundation (http://www.BePositive.org), as the Attainium 2012 Charity of the Year. B+ is a nonprofit organization focused on providing financial and emotional support for families and children battling childhood cancer as well as funding research grants.
The B+ Foundation was founded by Joe McDonough, following his son Andrew's battle with leukemia.
On January 27, 2007, 14 year-old Andrew McDonough helped lead his soccer team to victory in the Pennsylvania State Championship Tournament. Within 48 hours, Andrew was battling for his life after entering cardiac arrest and being diagnosed with leukemia. Andrew defied his physician's expectations and not only survived the night, but lived for an astounding 167 days. In treatment, Andrew learned his blood type was B+. Andrew and his family coined the phrase, "Be Positive", as their motto and creed throughout his struggle.
Andrew's optimistic nature, warm disposition, and strength of character, were the inspiration for the formation of the Andrew McDonough B+ Foundation. Since 2010, The B+ Foundation has awarded over $1 million in research and family assistance grants.
Brad Barros, a friend of the McDonough family said, "There is no work more important than finding a cure for children's cancers. I recently learned that Ali McDonough, Andrew's sister, is one of four finalists in the NASCAR sponsored Betty Fane France Humanitarian Award. I urge everyone to go online and support the B+ foundation by voting for Ali."
As a Finalist, Ali will receive a $25,000 grant for The B+ Foundation. Voting for the NASCAR Betty Fane Award closes on November 29. "Please visit the NASCAR website and vote for Ali McDonough and The B+ Foundation," Barros said. The winner of the 2012 Betty Jane France Humanitarian Award will also receive a $100,000 donation from The NASCAR Foundation to a charity of choice.
Andrew McDonough, who passed away following a brave battle against cancer in July, 2007, is an inspiration for many. Barros said, "My efforts over the past 25 years have focused on helping families grow and protect their wealth. The work we do at Attainium enables us to support organizations such as The B+ foundation. It is our responsibility to give back, and I can think of no better cause than B+. By supporting The B+ Foundation, we can all make an immediate and impactful difference in the lives of children fighting cancer."
Joe McDonough recognizes Brad Barros and Josh's Gottlieb's dedication and support. He said, "We are thrilled and honored to have the support of Brad, Josh and Attainium as we fight childhood cancers. This selection will help to not only raise money, but much needed awareness in our fight. Forty-six sets of parents will hear the words 'Your child has cancer' today. There are no words to describe my feelings as I watched my 14-year-old son die in his 16-year-old sister's arms.
It's not always easy to 'B+ (Be Positive), but with Brad Barros, Josh Gottlieb and Attainium on our team, we are so encouraged and optimistic. Brad, Josh and Attainium are proving to be role models in this battle."
The Andrew McDonough B+ Foundation honors the life of 14-year-old Andrew, who battled leukemia and sepsis before leaving us on July 14, 2007. Andrew's B+ blood type became the perfect message – Be Positive – to reflect how Andrew lived his life and how he inspires others to do the same. The B+ Foundation is about kids helping kids fight cancer -- by providing financial and emotional support to families of children with cancer, and by providing childhood cancer research grants.
Brad Barros
Brad Barros is a recognized leader in the risk finance industry is the managing director and co-founder of Attainium Capital Development Advisors, LLC ™. Mr. Brad Barros has over 25 years of experience advocating for middle market companies and high net worth families. Among Brad's expertise is educating financial advisors, attorneys, CPA's and clients in the benefits and opportunities made available through proprietary captive and other risk finance strategies and structures. At Attainium, Brad helps families and businesses build and protect their wealth through the development of programs tailored to meet their specific needs and objectives.
Josh Gottlieb
Josh Gottlieb has been nationally recognized for his creative and visionary path to solving complex financial problems facing businesses over the past four decades. Josh's experience in founding more than a dozen companies in the financial services arena across an array of disciplines has been punctuated with issued patents on proprietary financial solutions from the US Patent & Trademark Office. Co-founding of Attainium as an educationally-driven consulting firm with Brad, concurrently with his formation of a Delaware admitted insurance carrier, incorporates Josh's technical creative expertise with his continued work for some of America's wealthiest families to integrate this unique financial structure with wealth management, in an innovative and elegant manner.
Attainium Capital Development Advisors, LLC
Attainium Capital Development Advisors, LLC ("Attainium") is a financial consulting firm that integrates unique proprietary risk finance strategies and structures with advanced wealth planning solutions for highly affluent clients. Attainium helps determine if, when and how captive insurance solutions should be considered in achieving its clients' objectives and maximizing their financial opportunities. Attainium assists its clients by meaningfully increasing business reserves set aside for catastrophic financial events in meaningful while also reducing their exposure to taxation, business risks, and litigation while increasing their net capital retention in an asset-protected manner.
MEDIA CONTACT:
Amy Solomon
Attainium Capital
AmyLynn(at)AttainiumCapital(dot)com
Attainium Capital
917-693-5330