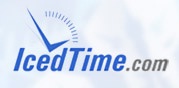 Whether you are looking for a diamond watch, an affordable engagement ring, men's diamond earrings, diamond bracelet or any other kind of fine designer diamond jewelry, you are sure to be able to find something that will please you at IcedTime.com
New York, NY (PRWEB) November 12, 2012
IcedTime.com offers all the diamond watches with discount up to 80% off retail. Joe Rodeo watches are undoubtedly the ultimate symbol of distinction for men and women. IcedTime.com has an exclusive collection, allowing to get the latest in these timepieces for the lowest prices around. Joe Rodeo watch collection provides extravagance to the personality. More and more diamond watches are among the classiest and popular timepieces that have been favored by diamond enthusiasts worldwide. Commonly known as Jojo watches, Joe Rodeo watches unite classy timepieces and trendy jewelry with wonderful look that could not be ignored.
The lustrous diamonds set on the watch surface and the unique designs make diamond watches the most sought-after that brings good taste for the latest fashion and status symbol in a the most impressive manner. Depending on the color of the diamonds, designs and of course the budget, watches made from diamonds have come a long way with a new line of gorgeous and classy styles that will please everyone. Some of the most eye-catching and renowned timepieces from this great brand include Joe Rodeo diamond watches, Madison diamond watches, Joe Rodeo classic, Apollo diamond watch, Rodeo Beverly watches and much more along with Rolex diamond watches available at IcedTime.com for men and women.
IcedTime.com designs uniquely Diamond Watches like Aqua Master Watches with the finest movements and solid stainless steel cases which achieves the personality and the look of modern elegance with diamond-laden cases, perfectly designed to make a statement. When it comes to buying luxurious timepieces, IcedTime.com is the right place to Shop and Save Up to 80% Off Retail. Moreover, IcedTime.com also offers additional benefits on purchase, such as manufacturer's warranty, safe and secure delivery, customer service support, insurance and more.
Diamond Rings for men and women, go well with every outfit from classical to casual and also perfect for any occasion, emphasizing the social status and taste. Unique and classy diamond rings are the sole embodiment of unprecedented quality and refined taste that make a contemporary fashion statement. Today, many people opt to buy luxurious diamond watches to give as gift to loved ones. At IcedTime.com, for a memorable and beautiful gift for your loved one, check out the wide array of choices at amazing deals, select from the latest styles, shapes and more. Features of the diamond watches make them ideal for every wrist. IcedTime.com is an authorized reseller of diamond watches and diamond jewelry with extensive and exclusive selection of Diamond Watches, Diamond Earrings and Diamond Rings. Explore more on website http://www.icedtime.com/ or visit the one-stop-shop at 62 West 47th Street, Suite 14A-13, New York, NY 10036.