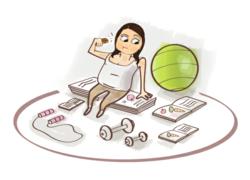 Don't let this winter mean a few more inches on your waistline. At porridgeontuesday.com we know that if you eat well and do more you will look and feel better.
(PRWEB UK) 6 November 2012
This winter in the U.K. women will put on an average of 2-4 pounds in weight when in fact many are trying to find out how to lose weight. New diet and exercise website http://www.porridgeontuesday.com founder Elaine Taylor looks at the top three reasons why this happens and what can be done to prevent it.
Winter weight gain is something that could be seen as inevitable as summer salads are swapped for winter stews and comfort foods creep back into everyday diets. Reacting to the colder days and longer nights, women in the U.K. reach for foods with more fat and sugar. A simple alternative is to substitute lunch (or dinner) for a bowl of hearty soup which gives all of the comfort but without all of the calories.
With only seven weeks to go until Christmas the extra time taken to plan, shop and organise for the biggest celebration of the year eats into free time and trips to the gym or an hour spent doing a home exercise video becomes unmanageable. The solution is exercise bites. Breaking exercise down into 15 or 30 minute blocks that focus on interval training can be much more beneficial than an hour of steady paced exercise at losing weight and toning up.
Another big risk for weight gain is mindless eating. Just an additional 150 calories a day between November and March will result in a weight increase of more than 4 pounds, that is before the Christmas night out, lunches and dinners take their toll. Such a small amount is less than couple of biscuits or a handful of chocolates, or finishing off a little one's meal on the way to the dishwasher. The best way to avoid accidental weight gain is to plan a weekly menu in advance, record everything and sticking to a personal plan.
The only way to lose weight and maintain the loss is to eat well and do more. Faddy diets have women everywhere confused and hungry and the best way to avoid the winter weight gain is to make small changes that are sustainable long-term.