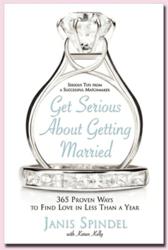 This is what separates me from the rest of the matchmakers
New York, NY (PRWEB) November 08, 2012
Janis Spindel marries her 996th bachelor the day after Hurricane Sandy as she got the call her client is getting married.
"I got a call on Sunday that my services are no longer needed and I should return all personal files as my Canadian NY client is getting married. I ran into the backyard yelling and screaming with joy and to share the wonderful news with my husband."
Spindel has 4 more clients to go before she hits 1,000 marriages since first launching Janis Spindel Serious Matchmaking Inc. It's difficult and costly for women to be approved and introduced to the clients of Janis Spindel. The process for women to be introduced to her serious, deep pocket wife seekers might chase any woman away.
"It took me over a year to set up a required Meet and Greet with the 996th wife who will be sporting a 6 carrot diamond ring and will be living the life of the rich and famous," says Spindel with a gleam in her eye.
Janis charges women $25 to apply to her private database where if approved, the women then must attend a Meet and Greet held each month for a one time $250 where Spindel and her cupids meet and interview every woman before they may be introduced to her clients or attend private invitation only events.
"This is what separates me from the rest of the matchmakers. The men who pay me big fees starting at $50,000 upfront want a woman who is also committed to the process by having a Vested Interest. That Vested Interest is in paying a one-time fee of $275 to pass my Standards Test. It eliminates gold diggers and women who are not serious about getting married. I am a matchmaker, not a dating agency."
In fact, Janis Spindel Serious Matchmaking Inc. is outsourcing its first online dating site so it can focus 100% on its core revenue generating upscale boutique matchmaking service.
"I have hired consultants; programmers and web designers to bullet proof my existing proprietary matchmaking system in anticipation of sustained growth from hand picked affiliates. I was told in simple terms to do more of what has been working and that is exactly what I am doing. Keeping it simple and successful for everyone involved."
###