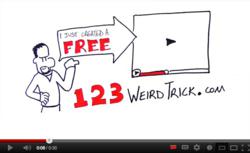 Power4Patriots was created as a way to allow anyone to become independent of high power bills and outages.
Nashville, Tenn. (PRWEB) November 08, 2012
Utilizing a doodle format to reflect its brand's down home style – not to mention saving 90 percent off the cost of a traditional TV ad – Power4Patriots has produced its first television advertisement. The 30-second ad, running exclusively on Glenn Beck's Blaze TV Network, steers viewers to a video where they learn about the company's videos and manuals describing how to build solar panels, wind turbines, water heaters and solar heaters.
Power4Patriots' debut TV ad follows on the heels of a successful online campaign that resulted in the sale of more than 100,000 units in less than a year since the company's launch. The Blaze TV Network was recently added to the DISH Network with its 14 million U.S. household reach, according to Forbes.com and other media outlets.
The Power4Patriots system includes six videos demonstrating how to build a solar panel, including choosing the right materials, finding the right site for the system and avoiding costly mistakes, as well as two instruction manuals with step-by-step, illustrated directions. It also includes four videos detailing how to build a wind turbine and two instruction manuals.
Experience in working with wood and other materials is helpful, but users don't need to be professional handymen to build these systems, and skills such as welding are not necessary. The company says that installing solar panels and a wind turbine at one's home will cut energy costs by as much as 75 percent.
On average, the costs are under $200 to build a solar panel and under $200 to build a wind turbine. Consumers who purchase already-made solar panels and wind turbines spend three to four times that amount. The time commitment to build a solar panel ranges from two to four hours, with the first one requiring more time than subsequent panels. A wind turbine requires a handful of hours to build.
Power4Patriots was created as a way to allow anyone to become independent of high power bills and outages. Cost-effective and uncomplicated, Power4Patriots teaches people how to build their own, environmentally friendly sources of energy. Visit Power4Patriots today to watch their controversial video that's been viewed by millions of people all over the world.