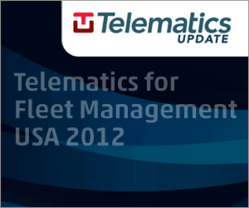 Only 15 Conference Passes Remain
Atlanta (PRWEB) November 06, 2012
With over 200 attendees set to attend, Telematics for Fleet Management USA 2012 will be the largest and most influential forum to unite the ecosystem of fleet management services. Senior-level representatives from companies such as Hertz, UPS, Volvo, John Deere, Towers Watson and General Motors have already confirmed their attendance. As bookings for the conference have reached an all-time high, Telematics Update has announced that only 15 passes remain.
Conference Director, Andrew Pym stated, 'the growing interest in this event is truly remarkable. We will be gathering the largest and most focussed crowd for this industry vertical and it looks like it will be bigger than ever. Andrew continued to say, 'however, due to such an overwhelming response, only a few conference passes now remain. This huge attendance represents that fleet telematics has reached a tipping point and it will be interesting to see the game changing partnerships formed as a result of the conference'.
15 Conference Passes Remain
Telematics Update has recommended that those interested in attending need to register for a pass quickly to avoid disappointment.
Looking forward to the conference, Chad Sallman of Garmim stated 'I always look forward to this event, to meet and collaborate with my peers in the fleet management industry and share insight on the latest trends, technology and ideas which will further evolve the space for all participants'. (Chad Sallman, Business Development Manager, Commercial Fleet Management, Garmin).
Industry leaders reveal the future of the connected fleet
200+ leading companies including, Volvo, General Motors, GE Capital, John Deere, Liberty Mutual, Hertz and UPS have already registered and will hear discussions on the latest business models and strategies for connected fleet management services.
30+ Expert speakers including GM, USDOT, Telogis, Wright Express, Sprint, Donlen, Mix Telematics, CPAC Systems, Rogers Communications, GE Capital, Towers Watson and Liberty Mutual will discuss:

Key findings and nuances of emerging global markets emerging trends
How to accelerate the adoption of fleet telematics using value added services
Methods to transform your data into actionable intelligence for fleet operations
An examination of the insurance industry as it integrates telematics data and equipment within the fleet sector
You can Still Register for Telematics for Fleet Management USA 2012
Register via the secure link to book your place amongst 200+ fleet telematics industry decision makers at Telematics for Fleet Management USA 2012: https://secure.telematicsupdate.com/fleet/register.php
About Telematics Update:
Telematics Update Conferences are the most prestigious in the industry. We produce the largest telematics events in North America, Europe & Asia, and attract the most influential speakers providing a rich environment for establishing strategic relationships and networking.
Contact:
Andrew Pym
Conference Director | Telematics Update
E: apym (at) telematicsupdate (dot) com
T: (UStf) 1 800 814 3459 ext 7599 | (Global) +44 (0)20 7375 7599
###