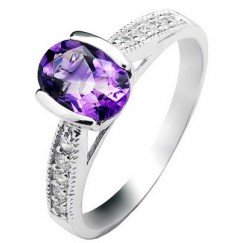 Amethyst Engagement Rings are steadily gaining in popularity in recent times
Baltimore, MD (PRWEB) November 06, 2012
Amethyst is one of the less popular types of gemstone, although it has been used in jewelry since the time of the ancient Greeks!Amethyst rings are believed to steer both men and women away from intoxication and seduction. Now, the brilliant purple and green colored gemstones are used for fashion purposes and marriage rings. Amethyst gemstone rings have a deep purple or brilliant green color that looks stunning on any woman.
JewelOcean has recently revised its collection of amethyst engagement rings, adding new and improved designs to the already fabulous assortment. Now, customers have a chance to purchase a gorgeous purple amethyst ring for their significant other. Amethyst rings are not as popular as ruby rings or diamond rings, which makes it the perfect choice for any couple looking for a unique engagement or wedding ring. Also, amethyst rings are usually less expensive than the popular rings, making for the perfect purchase.
Since JewelOcean has altered its collection of amethyst rings for women, many customers have reported their satisfaction with the new designs. Amethyst Diamond ring is generally a bold-looking ring, featuring large purple gemstones. This is a very flashy design, perfect for a woman who likes to be noticed. Amethyst also comes in a brilliant green color; however, JewelOcean features a gorgeous collection of purple amethyst rings. Amethyst gemstone rings can be made with white gold or yellow gold, but JewelOcean has chosen shiny sterling silver to create their rings with.
Cheap amethyst rings can be found on JewelOcean.com in many different styles. All of the rings feature purple amethyst centre stones, mounted on a sterling silver band. The designs vary from bold square gemstones to more elegant flower designs. Just like the other rings by JewelOcean, amethyst engagement rings come in sizes 4.5 to 9, with additional sizes available upon request. This is perfect for a woman with any size finger.
The cost of amethyst rings by JewelOcean also varies. Compared to the other rings available on the website, the collection of amethyst rings is fairly small. However, the new rings featured in the collection are all astonishing. The amethyst rings collection has a very low price range of $149 to $280, inviting customers with smaller budgets as well. This cost is great for anyone who has a big heart but a small budget, especially with the layaway payment option. More about layaway payments are available on JewelOcean's website.
JewelOcean, an online jewelry retailer, has specialized in high quality gemstone rings for over 10 years. The company guarantees customer satisfaction and provides couples only with the finest amethyst engagement rings. There is a 30 day refund policy and lowest price guarantee with each purchase, as well as a 24/7 customer service line to help out couples with additional questions. For more information about the beautiful amethyst rings, visit the website at JewelOcean.com.