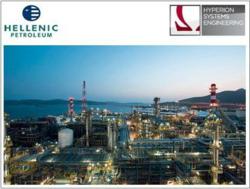 Hellenic Petroleum's Laboratory Infrastructure project was successfully executed and completed by Hyperion on time.
Nicosia, Cyprus, and Athens, Greece (PRWEB UK) 9 November 2012
Hyperion Systems Engineering announces the successful completion of an important Laboratory Infrastructure project for the Hellenic Petroleum S.A Group.
Specifically the project, which required 10 months from kick-off to completion, involved the expansion and upgrading of the laboratory information management systems (LIMS) for the three refineries of the company in Greece (Elefsina, Aspropyrgos and Thessaloniki), and the migration of these systems in one integrated environment with shared data infrastructure, work processes and reports.
The project was delivered on the Thermo Scientific SampleManager LIMS software platform from Thermo Fisher Scientific. Thermo Fisher are a leader in products and equipment supporting laboratory operations as well as the global market leader in LIMS technologies and laboratory informatics. Hyperion is a strategic partner of Thermo Fisher Scientific in Greece/Cyprus, Russian Federation and Saudi Arabia.
Dr. Anastasios Danas, Group IT Director of Hellenic Petroleum stated: " In such difficult times for the global and particularly the Greek economy, with the implementation of projects like this one, our Group emphasizes our commitment to continue looking forward towards growth and development. Hyperion has proved to be a trusted and dedicated partner with experienced engineers who identified all peculiarities or specific issues requiring resolution, and managed to successfully deliver the project on time."
Dr. Symeon Kassianides, Chairman and CEO of Hyperion stated: "Utilising the experience and knowhow which our engineers have gained over 20 years of Hyperion's worldwide project activity, for the success of companies in our own region is particularly gratifying. It is a true pleasure for us to work with Hellenic Petroleum and we look forward to a continued, stronger and closer cooperation going forward."
About Hellenic Petroleum Group
Hellenic Petroleum is a dynamic Group, with solid foundations and continuous profitability, holding a leading position in the Greek energy sector as well as in the greater area of Southeast Europe. The gradual evolution from petroleum into energy power is accompanied by global activities, expansions and alliances, and also by a development program with selected profitable investments in new areas. The Group's range of activities includes:

Supply, Refining and Trading of petroleum products, both in Greece and abroad.
Fuels Oil Marketing, both in Greece and abroad.
Petrochemicals/ Chemicals Production and Trading.
Oil & Gas Exploration and Production.
Power Generation & Trading and Natural Gas.
Renewable Energy Sources Production and Trading.
Provision of Consulting and Engineering services to hydrocarbon related projects.
Participation in the Transportation of Crude Oil and products (pipe-lines, sea transportations).
The Group's entrepreneurial programme includes investments mainly in the refining sector, in power production, as well as investments concerning the expansion of its international activities, with priority set in S. E. Europe and particularly in the Balkan region. For more information visit http://www.helpe.gr
About Thermo Fisher Scientific
Thermo Fisher Scientific Inc. is the world leader in serving science. Company's mission is to enable its customers to make the world healthier, cleaner and safer. With revenues of $12 billion, has approximately 39,000 employees and serves customers within pharmaceutical and biotech companies, hospitals and clinical diagnostic labs, universities, research institutions and government agencies, as well as in environmental and process control industries. Thermo Fisher Scientific creates value for its key stakeholders through three premier brands, Thermo Scientific, Fisher Scientific and Unity™ Lab Services, which offer a unique combination of innovative technologies, convenient purchasing options and a single solution for laboratory operations management. Its products and services help customers to solve complex analytical challenges, improve patient diagnostics and increase laboratory productivity. For more information visit http://www.thermofisher.com
About Hyperion
Hyperion Systems Engineering is a globally operating, independent provider of consulting & advisory services, systems engineering solutions and professional implementation services and support to process manufacturers. With 20 years of experience in the Upstream Oil & Gas, Petroleum Refining & Petrochemicals, Chemical, Power, Water and Metals industries, Hyperion helps its customers reduce operating and supply chain costs, improve safety and increase their overall profitability, always cognisant of environmental impact.
Employing a workforce of top engineers, consultants and project managers distributed across several locations, Hyperion operates world-wide delivering systems engineering solutions in areas such as Process Modeling and Optimisation, Operator Training Simulators, Basic and Advanced Process Control, Manufacturing Execution Systems, Data Validation and Reconciliation, Laboratory Information Systems, Plant Performance Management and Advanced Supply Chain Planning and Scheduling.
Hyperion's professional advisory and consulting services range from Strategic Opportunity Assessment, Technology Readiness and Front End Engineering Design studies, to Project Management Consulting and Program Management, to knowledge transfer assurance, technology review, training and education.
Hyperion Systems Engineering Public Ltd. is a company incorporated under the laws of the Republic of Cyprus and is the holding company of the Hyperion Systems Engineering group with registered subsidiaries in Greece, China, Russian Federation, Singapore, Kingdom of Saudi Arabia, Kingdom of Bahrain, India, United Kingdom and the United States. The company is also certified to the ISO 9001:2008 standard and is audited/ registered for ethical commercial practices by TRACE International. For more information visit http://www.hyperionsystems.net.