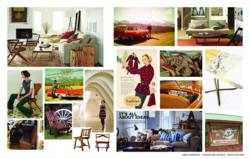 User Anthropology: The study of human factors (Social, Cultural, Physical, Cognitive and Emotional), which influence the functional change way to aspects of life.
Dallas, TX (PRWEB) November 07, 2012
In 2010, Groovystuff, a Dallas-based home furnishings provider, started a cooperative that allows design students at some of the world's best schools to see their creations become a reality. Since its inception, nine universities have participated in the cooperative. Now Groovystuff is proud to announce the Art and Design Department at Columbia College Chicago as the tenth design school to partner with in this one–of- a-kind education to industry cooperative.
As part of the partnership, 11 Columbia students under the leadership of Professor Mark Klein will join fellow designers from other schools in participating in the "Groovystuff by Design: Connecting Education with Industry Challenge." This year's challenge is to design pieces from what Professor Klein describes as an "anthropological perspective." According to Professor Klein he educates from "this unique perspective that looks at human factors and how they influence social, cultural, physical, cognitive and emotional norms." The winning designs will be given trade show exposure, celebrity endorsement and royalties for life.
When asked why the Groovystuff By Design Challenge was adopted for his educational platform at Columbia, Professor Klein had this to say, "Contemporary furniture design is about "the situation." I teach my students to look into current 'Lifestyle' to find modern furniture needs for people. This includes making an 'inspiration board' that documents their visual research with surveys of current retail furniture products, contemporary environments, color schemes, people, cool furniture, life, technology, and anything that inspires thought of form and conception of new furniture ideas. A key step for student to learn is how to incorporate the Groovystuff reclaimed materials and production methods into the model of the design process. This step works twofold: #1 It helps students to research and understand user context from an anthropological point of view. #2 It requires students to apply real client business constraints to their education. These factors provide a good curricular experience and a small sense of the professional market they strive to enter. Embodying these features in real material, particularly reclaimed materials from Groovystuff, involves the combination of an artistic soul and creative mind to create true design. These features I cannot provide, but as a teacher I can help guide students to find their own place in this competitive world."
The "Groovystuff by Design: Connecting Industry with Education" competition is a two-stage program in which winners are determined through a "Popular Vote at Market" and then for stage two the goods are produced and the grand price winner determined by the "Most Written Orders at Market." The competition takes place at the High Point Market, April 20-25, 2013 with additional exposure at the January Dallas and Las Vegas Markets. For more information, please visit the Groovystuff website and company Facebook page at http://www.groovystuff.com | http://www.facebook.com/groovystuff
About the company:
Founded in 1998 by Chris Bruning, Groovystuff designs, produces, and distributes unique reclaimed teakwood furniture at upper-medium and high-end price points. Based in Dallas, it has permanent showrooms in High Point, NC (The Suites at Market Square, G-1025), Las Vegas (World Market Center, B-146), and once a year at the International Causal Furniture Market in Chicago, IL (The Merchandise Mart, No. 8-9036A). For more information, please visit http://www.groovystuff.com or http://www.facebook.com/groovystuff.