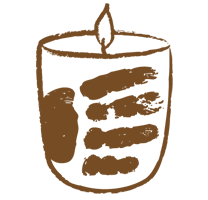 Greenville, SC (PRWEB) November 07, 2012
If you were to ask the Powdersville Self Storage employees what was most important to the managing of the self storage business, they would undoubtedly respond, "giving back to the community and helping those less fortunate than we, whether it be here in the United States or abroad."
As the holidays approach and in the spirit of giving, one project that Powdersville Self Storage intends to support is to "feed an orphaned child for one week" through the selling of the Sweet Grace special edition candle manufactured by Bridgewater Candle Company. For every candle that is purchased, Bridgewater Candle Company, partnering with the non-profit organization, Rice Bowls, makes a donation to feed an orphaned child for one week through their project termed as "Light a Candle – Feed a Child".
There are more than 140 million orphaned children around the world with statistics reporting that one orphaned child dies from hunger every two seconds. Last fall several of the Bridgewater Candle employees, alongside some of their dealers, traveled to an orphanage in Haiti and experienced first-hand this poverty-stricken area. They learned that 15 percent of the children in Haiti are orphaned, with some 300,000 being enslaved and abused. It is the hope of Bridgewater to share "sweet grace" to all of these children in whatever circumstance they find themselves in – therein, the name for their special edition candle – "Sweet Grace".
More than 2 million meals have been provided by Bridgewater to these orphaned children through the "Light a Candle – Feed a Child" program since its inception in June, 2010. Children are being fed in India, Haiti and Nicaragua.
It is Powdersville Self Storage's intention to partner with Bridgewater in their goal of helping to alleviate hunger throughout the world through the sale of these candles. "Sweet Grace" candles will be available for sale during the months of November and December at our store located at 11411 Anderson Road, Greenville, SC 29611. The candles will be available for $15.00. Stop by our store to do your Christmas shopping, and join us in this endeavor to save starving children!
About the company:
Powdersville Self Storage is a locally-owned and operated storage facility located in Greenville, South Carolina serving Greenville, Powdersville and Easley. They offer convenient and affordable storage units for residential items. They provide impressive, state-of-the art measures so that all stored items will be safe and out of harms way. Voted Best of The Upstate by readers of the Greenville News for 5 years in a row. For more information visit their website at http://www.powdersvilleselfstorage.com.