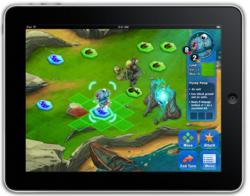 Rockwall, TX (PRWEB) November 08, 2012
What happens when one of the most respected names in the gaming industry pairs up with the beloved Lovecraft/Cthulhu license? A game is born that is set to deliver Cthulhu fans with the madness, action and hands-on control of Cthulhu they have been craving for years. Sandy Petersen, the horrific brain behind Call of Cthulhu, has announced a Kickstarter campaign to launch Cthulhu World Combat - a game based on the revered Lovecraft tales of yore that lets gamers duke it out over control of (what's left) of the world.
Cthulhu World Combat is a new turn-based strategy game being developed by Sandy Petersen (known for his work on the original Call of Cthulhu, Civilization, Age of Empires, Quake, and Doom among others) in partnership with Barking Lizards and Happy Muffin Top.
Currently being developed for multiple platforms including PC, console and mobile, Cthulhu World Combat features simple game play to fit the preference of the mobile/social gamer. This includes quick unit selection, simplified unit movement and handling, fast (brutal) game play and a beautifully designed world map where all the action takes place.
That action plays out like brawling chess pieces, where you attack by moving your unit over to the targeted opposing unit. Attack plays out turn-by-turn with custom animations showing scored hits. Even with tougher creatures, however, these epic battles among the Cthulhu mythos, creatures and cult followers last only a few seconds - adding to the ease of play for gamers who like to get a quick fix for their action and strategy addictions.
The Cthulhu game features the artwork of Tom Sullivan, the artist behind the original Call of Cthulhu imagery, Petersen's Field Guide to Monsters, The Evil Dead movies (including Army of Darkness) and a slew of others - an individual who is certainly no stranger to sci-fi and horror.
According to Sandy Petersen "One of the most common questions I'm asked at gaming convention and of Cthulhu fans worldwide is 'When are you going to do something with Cthulhu again?' Now is the time! I have partnered with a group of like-minded, talented developers to produce a Cthulhu product that I am really excited about. We have grandiose ideas for expansions and elaborations, but they can only happen after the first step – getting Cthulhu World Combat off the ground."
That's why Sandy turned to Kickstarter for funding. Anticipating a development period of 6 months, they have launched a 40 day Kickstarter campaign for the Cthulhu game in hopes of reaching a $300,000 funding goal.
"Those funds will help us cover not only the artistic design but also the development of the game across multiple platforms" stated Sandy. According to the team those platforms include Android and iOS as well as plans to launch the Cthulhu World Combat game on PC, XBOX Live and Playstation Network.
"Kickstarter isn't just about funds for development though. It's near-impossible to get investors entranced by game concepts; especially an IP like Cthulhu. With Kickstarter, we're going direct to the consumer; the Cthulhu lovers and gamers of the world. We're giving them an opportunity to help fund something amazing, and directly influence game mechanics and features that we add to the game." Stated Sandy.
"Our focus is on making the best game possible, and with the support of our backers on Kickstarter we'll be able to do just that."
Cthulhu World Combat is currently live on Kickstarter, with a finish date of December 3rd. In the first week they have drawn in the support of nearly 400 backers offering over $20,000 in pledges. Those seeking to pledge funds to the project can do so via the Cthulhu World Combat games' Kickstarter Page (link).
For detailed game information, visit the Kickstarter page above or head over to http://www.cthulhuworldcombat.com/