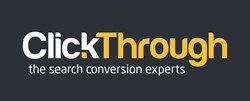 ClickThrough studied search stats* from 2011, which show UK Christmas shoppers conducted almost 225,000 more searches for gifts for blokes than for women
(PRWEB UK) 7 November 2012
Women in the UK get a raw deal when it comes to the time spent shopping for Christmas gifts online, according to Internet marketing research from ClickThrough Marketing.
ClickThrough studied search stats* from 2011, which show UK Christmas shoppers conducted almost 225,000 more searches for gifts for blokes than for women.
The figures suggest shoppers spend less time searching online for gifts for women, compared to gifts for men, and that women are last on the UK's online shopping list: searches for gifts for men start in early October, but searches for women's gifts don't begin to take off til late November.
The data also shows more people are turning to the Internet every year for help with Christmas gift ideas for blokes – whilst the number of searches for gifts for girls remains roughly the same.
"It's an age-old stereotype that men are disorganised when it comes to Christmas shopping, but our research seems to suggest it's entirely true," said Amy Bott, paid search director at ClickThrough Marketing.
"From these search stats, it seems more women use Google to try to find presents than men do, women are more thorough in their research, and women give themselves more than two months to find the right presents, whereas men end up in a last-minute rush.
"UK shoppers start looking for online gifts for men in October, but the surge in searches for online Christmas gifts for women comes as late as mid-December. So whilst it appears ladies put the most effort into Christmas shopping for others, they perhaps get the least amount of effort back when it comes to people buying presents for them."
Google search data from last winter reveals vast differences in the way UK shoppers approach Christmas online:
UK shoppers are more likely to search for 'gifts for' men than women online.

In December 2011, Google handled 540,500 UK searches for "gifts for men" and 86,100 searches for "gifts for him" – making a total of 626,600 gift searches for blokes that month.
On the other hand, there were just 234,100 searches for "gifts for her" and 168,100 searches for "gifts for women" – making a total of 402,200 searches for gift ideas for girls.
UK shoppers start searching for 'gifts for men' early.
Search volumes for "gifts for men" and "gifts for him" were roughly the same in November and December 2011.
UK shoppers carried out 594,400 searches for "gifts for men" and "gifts for him" in November, rising by around five per cent, to 626,000 searches in December.
Google Trends analysis shows women tend to start searching for gifts in October, with a steady, but rising stream of male-focussed "gifts for" searches starting in October, and running through November and December.
UK shoppers wait until the last minute to search for gifts for women online.
There are clear spikes in "gifts for her" and "gifts for women" searches in December (402,200) compared to November (312,000)
"Gifts for her" searches saw a whopping 23% month-on-month increase in the same period.
Google Trends shows that men seem to suddenly remember it's Christmas around the second week of November, when search volumes begin to peak for terms like "gifts for her".
Search data also shows more UK shoppers are turning to Google for help with Christmas shopping for men year on year. There was a peak of around 540,500 "gifts for men" searches in December 2011, compared to just 397,850 or so the year before.
That contrasts sharply with the number of men searching "gifts for her" in 2010 and 2011: the volume of searches stayed roughly the same.
"You can draw your own conclusions from these stats," added ClickThrough's PPC expert, Amy Bott. "We're unable to break the figures down by gender, but the search volumes do tend to suggest women do all their Christmas shopping research online, and spend a good few weeks looking at what's on offer, whilst men seem to wait til the last moment."
ENDS
Notes to editors:
For more information, please contact: Ali Harris, content manager, ClickThrough Marketing.
Telephone: +44 (0)1543 410 014
Email: aharris(at)clickthrough-marketing(dot)com
Search stats used from Google AdWords and Google Trends:
Google Trends analysis: Peak search volume for "Gifts for him", "Gifts for men", "Gifts for her", "Gifts for women", from February 2010 to February 2012
Google AdWords Keyword Tool, search volume analysis by month, December 2011: "Gifts for him", "Gifts for men", "Gifts for her", "Gifts for women"
About ClickThrough Marketing:
ClickThrough Marketing (http://www.clickthrough-marketing.com) is a search and Internet marketing agency, specialising in conversion optimisation. Since 2004, the company has helped clients in the UK, USA and Europe reach new customers using proven, ethical search marketing know-how, and our own unique technology. ClickThrough is committed to providing honest, actionable Internet marketing advice, with results-driven services for SEO, PPC and online PR.
ClickThrough's Internet marketing experts include a double-award winning senior journalist, one of the UK's most respected linkbuilders, and Dr Dave Chaffey, one of the Chartered Institute of Marketing's top 50 people worldwide to shape the future of marketing. Call +44(0)808 231 1970 for more information on how ClickThrough's experts can help with SEO, PPC and online PR.