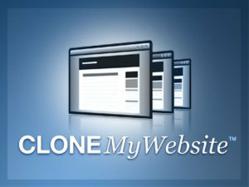 The Ultimate Direct Response Internet Publishing Platform!
Las Vegas, Nevada (PRWEB) November 07, 2012
Who doesn't aspire to be an Internet marketer and earn a million dollars? But, very few really succeed, and even those who manage to succeed take up 8-10 years to find their way, but CloneMyWebsite.com now presents the most astonishing Internet marketing plan to get the newbies started in a jiffy.
There is simply no shortage of self-made millionaires and Internet marketing gurus on the web, but the sad part is that nobody really reveals their secret formula to earning even a thousand dollars, let alone the possibility of leaking a million-dollar secret. Looking at the misery of Internet marketing aspirants, CloneMyWebsite.com has launched an integrated program that not only allows the beginners to launch their own blog, but integrate it with e-commerce stores, and start running their own full-fledged online businesses in a matter of few minutes.
Get your free copy of CloneMyWebsite.com marketing guide before all the free copies get exhausted!
And, who doesn't want their website to look fantastic and all its web pages to dominate the Google SERP rankings? But, it becomes too daunting a task for the new Internet marketers who have no clue about the advanced concepts like Tier-II backlink building, and have absolutely no programming knowledge either. But CloneMyWebsite.com's unique program makes it a cake-walk even for a 10 year old kid to market money on the web.
And, this latest Internet marketing package launched by CloneMyWebsite.com has already become a rage among the beginner-level online marketers.
There are virtually dozens of reasons that make CloneMyWebsite so special; first and the foremost one being the sheer fact that it's not just another dummy guide or an e-book, but rather a comprehensive system that assists an Internet marketer throughout the process. Rather than making tall claims without any substantial proofs to back 'em up, CloneMyWebsite not only gives out the blue-print of a successful Internet marketing strategy, but also offers support to the members, and takes complete care of their website maintenance too.
With its growing popularity, the service is also garnering attention of hundreds of accomplished Internet marketers on daily basis.
To give an idea about the industry experience of the parent company 'Call to Freedom International', it has assisted over a couple of thousand small business firms, clocking more than $23 million revenues in its 7 long years of operation. In simple words, the founder of the company has hands-on experience in creating a successful online empire.
The packages of CloneMyWebsite include everything right from a professional-looking website design with custom menus, event offers, exclusive landing pages down to monthly maintenance, Internet marketing, and social media promotions. All the website designs provided the company include Facebook Integration, and they can be painlessly configured with all popular 3rd shopping cart systems.
To top it all, their packages are not priced in thousands or even hundreds of dollars, but rather start from a meager $19.95/month for single CloneMyWebsite™ single site license, and come with a 30 day money-back guarantee as well.
Know all about their enticing Internet marketing packages on http://www.clonemywebsite.com