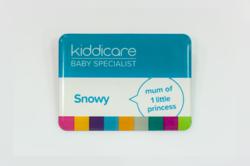 Kiddicare Brand Director Elaine Weavers-Wright said: "It's important that our colleagues and customers can relate to each other... The solution from BIG has allowed us to bring even more personality to our new superstores."
Hampton Hill, UK. (PRWEB UK) 7 November 2012
BIG, the UK and European leading specialist for staff name badges and event badges has delivered an effective badging solution for branded and personalised staff name badges for its retail customer, Kiddicare.
The award-winning baby specialists Kiddicare required an effective and efficient badging solution for their new superstore in Nottingham that would allow their staff to produce and personalise branded name badges in store.
Kiddicare are nationally recognised as leaders in retail and customer care. Consequently, they were looking for branded badges that would reflect their renowned customer experience and enhance the special relationships their colleagues regularly develop with families and parents who frequent the stores.
It was essential that while the individual branches would have the ability to personalise their teams' name badges, all the Kiddicare brand elements would be locked, and therefore consistent, across all the branches. Kiddicare also required an online system that would allow them to manage this effectively and efficiently.
Working closely with the creative services team at Kiddicare, BIG designed the branded name badge templates. They then developed a bespoke Kiddicare online site using the BIG online badge system. The site allows Kiddicare branches to access their branded templates and upload lists of names that would then be printed in store on durable and scratch-resistant BIG Selfit badges. This process ensured that the Kiddicare brand colour, elements and layout were uniform throughout the stores, while there was still space on the badges for personalisation by the wearer. Personalisation included icons and family-friendly information such as "babysitter" and "dad to a little devil".
Kiddicare Brand Director and mum of two Elaine Weavers-Wright comments: "It's important that our colleagues and customers can relate to each other. We find out lots about the families we serve, finding them the perfect product. It's nice for customers to know the person serving them understands how brilliantly life changing little ones can be. The solution from BIG has allowed us to bring even more personality to our new superstores."
Kiddicare also required permanent name badges for branch managers. These were also developed by BIG. Using a similar online system, the permanent name badges were ordered and approved online before being dispatched to the branches within three working days.
Emily Brouder, BIG UK Marketing and Sales Manager said, "Kiddicare's approach to staff name badges allowed us to demonstrate the full functionality and the versatility of our badging systems for our retail and customer-facing clients. Our team works closely with all our customers to deliver award winning customer-focused, efficient and cost-effective badge and print solutions. The Kiddicare name badges are completely aligned to their new branding, while allowing the wearers to develop family-friendly relationships with their customers."
Since 1988, BIG has enjoyed an enviable reputation as a market leader. It continuously sets international standards in customer service, and in developing and implementing innovative badging and print solutions. As businesses look for loyalty building, cost effective and time saving solutions, BIG continues to push forward and introduce innovative solutions.
BIG supplies an extensive range of designs for high quality name and ID badges, all designed to raise the value, visibility and prestige of client brands whenever they are used. BIG products offer quality solutions catering for all budgets and sizes of operation within the private and public sectors. BIG badge solutions are synonymous with customer facing staff badges within retail, hospitality, transport, education and nursing, leisure and cultural sectors in particular. BIG badges and print solutions are also market leaders within the MICE industry, creating the right impression for visitors, guests, delegates and organisers at events, conferences, meetings and spectator activities such as sports, festivals and exhibitions.
BIG is headquartered in Hampton Hill, West London and supplies its products from its 11,000 square foot manufacturing facility in Ipswich. BIG processes more than two million name badges and 13 million business cards each year for companies of all sizes and across industries
Word count: 648
ENDS
Notes for Editors:
BIG is part of the Brady Corporation, with operations in 22 countries, and distribution in over 100 others. BIG has worked for thousands of organisations of every size and in every sector. The print and manufacturing operation is located in Ipswich. For a list of services and products, please visit http://www.big.co.uk.