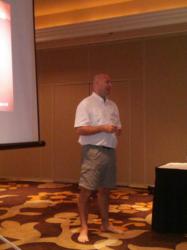 This group of individuals attending seemed to be more motivated to share and open up.
Fitchburg, Wisconsin (PRWEB) November 13, 2012
The Business Brain Trust Conference offered by 3rd Level Consulting was in Las Vegas on October 22nd and 23rd. The conference, attended by owners and directors of businesses in the children's activity center industry, shares guidance in major areas as well as offering round table discussions for best practices in those businesses. Frank Sahlein, the conference host brought in several speakers covering topics like finance, business strategy, information systems, facility design and maintenance as well as inspiration. One speaker, J Orkowski of Gymfinity Children's Activity Center in Fitchburg Wisconsin, came to deliver lectures and lead discussions on human resources, marketing and risk management.
Said Orkowski, "This conference is unlike any others I've been to because it actually is a brain trust. We start with lectures defining the general topic but then over half the time is open discussion. To be in a room with a sample of people who are like minded but with different experience is invaluable during sharing time." Joining Orkowski from Gymfinity were 2 of the businesses directors who came as attendees; Stephanie Orkowski (co Owner and Business Director) and Shalyn Mikles (Office Director).
"The idea," says the founder of the conference and CEO of 3rd Level Consulting Frank Sahlein, "Was to bring together the leaders in the field to help guide each other and what we found is these really are the businesses leading the cutting edge of what this industry will become." Professionals from Gymnastics, Cheer, Dance, Music, Swim, Martial Arts and Child Care businesses attended and shared practices during the 2 day conference. Conference attendee Tony Whitaker of Chicago says, "(the BBTC) allowed us to mingle with the other owners more and have conversations that benefited us even greater." Whitaker, who was billed as a co-presenter was part of a presentation group that was drawn from across the world including: Bob Tanon (California), Mardi Obrey (Utah), Ron Ludwig (Nevada), Orkowski (Wisconsin), Sharron Crowley (Canada), Mike Fitzgerald (New Zealand), Andy Broido (Florida) and Sahlein himself (Idaho).
"I have spoken at this conference before," says Orkowski, "but this group of individuals attending seemed to be more motivated to share and open up. There is no judgemnet on failures that anyone might have had because those are the places that we learn from. In fact people sharing fail stories prompted some of the best conversations."
3rd Level Consulting offered the conference annually and this go around is the first time it was offered a second time in one year and the first time in the fall. Being well attended Sahlein and 3rd Level confirms that October will be offered again next year as well as the annual May dates.
# # #