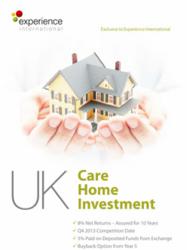 Providing care homes for the elderly and disabled should offer one of the safest investments on the stock market. Local authorities pick up the bill and these is never any shortage of people needing a bed.
- The Independent
(PRWEB) November 08, 2012
The Health Secretary, Jeremy Hunt has stated that for the first time in history, the number of pensioners exceeded the number of children in the UK. With one in three over 65s diagnosed with dementia, Hunt has pledged £50 million to improve care for dementia patients.
Highlighting the need for improvement to the on-going care of patients, the Alzheimer's Society has stated that 6% of dementia sufferers died at home in 2010, compared to the 21% of the general population who died at home. With such a small percentage of dementia patients unable to seek home care, investment into specialist care homes in the UK is much needed.
"We have to face facts. As a society, dementia is one of the biggest threats we will face in the 21st century. It will affect us all - whether it's someone we know, someone we care for, or even ourselves," Hunt stated in a recent interview with Sky News.
With an extra £50 million pledged to making England the 'best place in Europe to grow old', investment in care homes in the UK is set to grow in line with the demand from the ever-increasing ageing population.
Care Home Property Investment
Care home property investment has proven to be a stable asset class despite the economic downturn. A recent report entitled 'Healthcare vs other assets' showed strong double digit performance driven by high net income return for healthcare in 2010 and during the previous 4-5 years.
As investment in non- discretionary sectors such as care homes has become a profitable avenue for investors searching for a steady income stream, with experts predicting that investment into healthcare property will soar due to the demand from the UK's growing elderly population.
New Care Home Investment Opportunity
A new care home investment has been launched by London-based property agent, Experience International. The new launch will mark the company's third investment in the sector.
"Health care property has emerged as a key asset class for many investors and is now considered as a high yielding option for those looking to expand their investment portfolio," Steven Worboys, MD of Experience International stated. "We're pleased to launch this new investment which will offer assured returns and has been structured with an optional buyback in place."
With over 50% of the building complete, the new development will consist of 66 specialist care suites, designed to cater for dementia patients and elderly residents. Fully managed and operated by a specialist care company, investors can purchase one or more suites and will secure 8% NET per annum for 10 years (index linked from year 3).
The state-of-the-art rooms are available 25.28% below RICS valuation, enabling investors to secure instant equity and 5% interest will be paid on deposited funds throughout construction. The nature of this investment will enable investors to receive income from day 1 and it is also SIPP and SASS compliant.
For more information about this new UK care home for sale, contact Experience International on 0207 321 5858 or email enquiries(at)experience-international(dot)co(dot)uk.