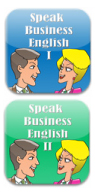 "Language Success Press has gone the extra mile in delivering cutting-edge apps for learning Business English."
Ann Arbor, MI (PRWEB) November 07, 2012
Two popular English learning apps – Speak Business English I and Speak Business English II –– are now available for download from iTunes. The apps help English language learners and ESL students improve their Business English.
Based on customer feedback, a new feature has been added that lets users record themselves reading the dialogues aloud, name and save their recordings, and delete their recordings. The record and playback feature lets users compare their recordings with those of native speakers so they can hear the difference. According to Tanya Peterson, Marketing Director at Language Success Press, this is a very useful accent reduction feature. "Hearing the sound differences between the way the learner is currently pronouncing words and sentences and the way a native English speaker pronounces them is an important step in improving one's pronunciation," says Ms. Peterson.
The apps have also been upgraded to include social media integration, allowing users to share information about the apps with their contacts on Facebook and Twitter. The apps are fully compatible with Apple's latest iOS 6.0.1 operating system.
Each app features 15 lessons with realistic business dialogues, with lesson titles such as: Talking about Company Strategy, Running a Meeting, Discussing a Difficult Request, Conducting a Performance Review, and Politely Disagreeing with Someone. Each lesson teaches a dozen or more American English idioms and expressions that learners will find useful when doing business with native English speakers. They include: rally the troops, generate lots of buzz, keep an open mind, come up with a winner, bells and whistles, and cover a lot of ground.
The lessons are based on the bestselling Business English book and audio CD "Speak Business English Like an American" which the Midwest Book Review calls "the ultimate instructive guide to the hundreds of expressions and idioms heard at the workplace daily."
To borrow an idiom from one of the apps, Language Success Press has "come up with a winner" with these apps. Earlier versions of the Business English apps have been downloaded by English language learners in 35 countries, according to Ms. Peterson of Language Success Press. She says that many people download both apps at the same time, while others start with Speak Business English I and then move on to Speak Business English II.
The Daily App Show has featured a video review of Speak Business English I offering the opportunity to see the app in action. Speak Business English II offers the same functionality and features.
In addition to Speak Business English I and II, Language Success Press offers two other apps for learning English: the Business English Power Verbs app and the Speak English Like an American app. All of the apps are featured on the company's ESL mobile app store. Speak Business English I for iPad is available for download here:
https://itunes.apple.com/us/app/speak-business-english-i-for/id459687165?mt=8
Speak Business English I for iPhone and iPod touch is available for download here:
https://itunes.apple.com/app/speak-business-english-i/id459684683?mt=8
About Language Success Press
Language Success Press is a publisher of books, CDs, and mobile apps to help people speak better conversational American English. The company specializes in books, CDs, and mobile apps for accent reduction and everyday English. Founded in 2002, Language Success Press has customers in 40 countries around the world. Follow the company on Twitter at @LanguageSuccess. For more information, contact Tanya Peterson at Language Success Press: Tanya(at)languagesuccesspress(dot)com