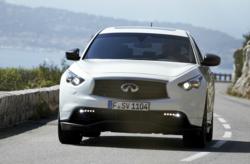 This is one of the most exclusive new cars of the year and is sure to get fans of performance cars and F1 excited.
Liverpool, United Kingdom (PRWEB UK) 7 November 2012
The motoring journalists at MotorTorque have recently travelled to Monaco to get an exclusive hands-on with the highly-anticipated Infiniti Sebastian Vettel FX limited edition in Monaco.
The original car was designed especially for Sebastian Vettel, but Infiniti has announced it's producing 150 models, with only 15 of those scheduled to reach the United Kingdom.
MotorTorque was one of a select handful of motoring publications from around the globe to be invited to Monaco to road test the £100,000 car and put it through its paces.
MotorTorque's content and video team drove the car around the famous principality, where they were able to try the crossover's new exhaust (complete with 'loud' button) and its exclusive equipment which includes a 'Connectiviti+' infotainment system.
The MotorTorque team was impressed with the car's power and comfort, and were astonished with how nimble the car was to handle – though they expected nothing less from a car designed for one of the world's best F1 performers.
"We were incredibly privileged to be invited to Monaco to go hands-on with one of the finest luxury cars ever produced from the east, designed by one of the best Formula One drivers in the history of the sport," comments MotorTorque's Head of Content Stephen Hurrell.
"This is one of the most exclusive new cars of the year and is sure to get fans of performance cars and F1 excited.
"Our video team has taken some great footage of the car in action, which can be found on the video section of the MotorTorque website. We'll also be posting exclusive content around the car in the near future including an in-depth review and more across our social channels."
The crossover was originally built especially for the multi-title Formula One World Champion – who is also an Infiniti Global Brand Ambassador – in 2011.
When the car was unveiled it was hailed as a one-off and immediately labelled as 'Infiniti's fastest car yet'.
According to Vettel: "I have been driving an FX all this year and it is a car I love. It fits my lifestyle perfectly and is great fun to drive. But of course, it could go a little faster…
"[The car] is an Infiniti I am very proud to have my name on. It is all I hoped for: 300km/h, plenty of downforce – and I can still fit my mountain bike in the back. Plus it is totally exclusive – and as an Infiniti driver, that's important."
Designed around the world's most demanding driver the car took just six months to build and can hit 0-62mph in 5.6 seconds. It has a top speed of 186mph thanks to its powerful 5-litre V8 414bhp 420PS engine, and a number of incredible lightweight carbon-fibre components.
About MotorTorque.com:
Since 2006 MotorTorque.com has been providing car enthusiasts with exclusive car news, reviews, ratings, features and video content related to the auto industry. MotorTorque.com can also provide new car buyers with the best quotes, test drives and brochures for new models from the world's leading car manufacturers.
About The Auto Network:
Formed in 2002, The Auto Network is the UK's leading automotive marketing agency, specialising on lead generation and digital marketing. In the decade since its inception, The Auto Network has delivered thousands of sales, test drives and brochure request leads each month to manufacturers, dealers and the leasing industry. Clients include Vauxhall, Honda, Perrys, Seat and more.