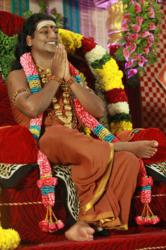 Specially designed by Enlightened Masters, the intense energy fields of temples are spaces where the mind spontaneously moves within and meditation happens effortlessly.
Los Angeles, CA (PRWEB) November 06, 2012
Beaming Nithyananda Vedic Temple volunteers and devotees said "All Are Welcome" as they get ready to welcome the whole world, to share the richness of the Vedic tradition's science and culture.
Installed by Enlightened Master His Holiness Paramahamsa Nithyananda, the Nithyananda Vedic Temple of Los Angeles (Montclair, CA) is not only a center of worship and meditation, but also educates and inspires millions of people worldwide, under the spiritual guidance and inspiration of Living Enlightened Master Paramahamsa Nithyananda.
The Vedic tradition and culture--the basis for modern day Hinduism and several other Eastern faiths-- has been a rich source of inspiration for thousands of years. However, recently, even in the heart of India, ancient Vedic traditions have started to fade away. The mission and vision of Nithyananda's spiritual mission through the Nithyananda Vedic Temples across the world is to renew these Vedic traditions and to ensure yogic technologies and mystic sciences continue to enrich humanity for many centuries to come.
The Vedic Temple at Montclair holds the largest number of tallest deities in North America. With more than 50 deities of Enlightened Masters from the Vedic tradition, the Nithyananda Vedic Temple serves as a place of worship, meditation and celebration.
The deities are cared for in traditional Vedic fashion, with rituals performed in an authentic Vedic ambiance. Deities including Lord Venkateswara, Lord Ganesha, Lord Shiva, Lord Nataraja, Goddess Devi, Navagrahas, Buddha, Mahavir, Shirdi Sai Baba, Hanuman – radiate Divine grace, enlightened energy and compassion.
Take a photo tour of the temple…
In addition, the Temple also serves free maha prasad (energized Satvic divine food) to all visitors and devotees, all day, everyday. Being a place where meditation just happens naturally and effortlessly, the Nithyananda Vedic Temple provides the perfect ambience for Satsang (Vedic congregation), Yoga and Meditation workshops. eNVidyalaya, a Sunday Vedic school for children from ages 4 to 14, at the temple, is one more hall mark offering specially designed for enlightened lifestyle.
The temple also boasts of a huge theater auditorium with stage and large screen projectors, with a seating capacity of 300, a 1000 sq ft yoga studio and an international Vedic gift store with spiritual books, energy jewelry and asian arts.
Nithyananda Vedic Temple in Los Angeles, hosts the live streaming of Paramahamsa Nithyananda's Daily satsangs at 5:30pm PST on 2 way video conferencing which free and open to all. For more information, please contact the Temple at (909) 625-1400 or by email at info(at)nithyanandavedictemple(dot)org
More information on the temple events, programs including yoga, free healing, spiritual initiations, news and updates is available at http://www.nithyanandavedictemple.org/ and one can also subscribe to the Nithyananda Vedic Temple Newsletter.
Nithyananda Vedic Temple is located at 9720 Central Avenue, Montclair, CA 91763
View Larger Map.
For more information on His Holiness Paramahamsa Nithyananda, His mission and the ashram in Bidadi, India please visit http://www.nithyananda.org
About His Holiness Paramahamsa Nithyananda section:
When Paramahamsa Nithyananda ascends the traditional seat of teaching (Dhyanapeeta Mahasamsthana Avathumvara Simhasana) every morning and starts his teaching sessions (satsang), thousands of people from over 30 countries participate live via 2-way video conferencing. Also, people from 150 countries watch the streaming of recorded videos every day on Nithyananda.tv
Nithyananda who is also a powerful exponent of Vedanta, has already won recognition as the pioneer of a powerful Vedic renaissance. His live talks on Bhagavad Gita, Shiva Sutras, Patanjali Yoga Sutras, Brahma Sutras and other powerful scriptures have touched audiences of thousands, both within the country and abroad. Taking Vedic culture into homes: Nithyananda has an agenda to make enlightened living a practical reality for every person in every home. Nithyananda's vision is to restore spirituality to the people, and the people to spirituality, in very real ways.
Keen to inculcate traditional Indian values in children, he has initiated the Gurukul system, an alternative educational system where each child receives individual attention, and education is based purely on need and aptitude. To expose people to the spiritual energy fields of India and create awareness about the rich spiritual heritage of India, Nithyananda leads yatras (pilgrimages) to the Himalayas, Varanasi (Benaras or Kashi) and other holy spots. Nithyananda himself conducts the marriage of couples according to the time-honored Vedic tradition.
Paramahamsa Nithyananda's meteoric rise by untiringly helping humanity to raise in consciousness, invited the ire and jealousy of vicious vested interests in the Indian media. A recent survivor of religious & linguistic persecution and unlawful imprisonment in his own country, Paramahamsa Nithyananda has emerged still stronger from the attack, and continues to reveal to the world the deeper dimensions of the ancient mystic disciplines of the East.
He is the most-watched spiritual teacher on YouTube.com with more than 14 million views, and the author of more than 300 books published in 27 global languages. Nithyananda has been named among the world's top 100 most spiritually influential personalities of 2012. An accomplished yogi and gifted spiritual healer, Paramahamsa Nithyananda has healed diseases ranging from migraine to cancer, often with a single initiation.
For close to a decade now, Paramahamsa Nithyananda has been working with scientists and researchers to demystify the yogic sciences of the Universe, including kundalini awakening, DNA activation, brain-cell regeneration, levitation, materialization and yogic age-reversal.
Research Video on Kundalini Awakening: http://www.youtube.com/watch?v=nDqucDVeX7Y&feature=plcp