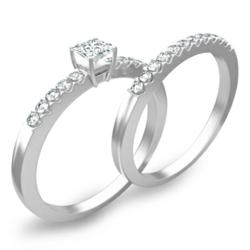 Couple Engagement Rings are gaining in popularity as many couples are now looking for matching couple rings
Balitmore, MD (PRWEB) November 07, 2012
Couple engagement rings have taken part in marriage for many years now. It is a tradition that continues to grow, as couples exchange matching rings to display their love to the world. Long ago, couples used to exchange matching wedding rings, showing they belong to one another. This practice has carried on to modern day, as more and more couples search for the perfect matching rings. Nowadays, the man's ring is designed in a simple way to look more masculine, as the woman's ring has more of an intricate design and generally has more gemstones.
JewelOcean has recently presented fresh designs in their selection of couple engagement rings. Those lovers looking for traditional or contemporary couple rings will find the perfect fit to their taste at JewelOcean.com, with the new selection of rings for him and her. The many styles and personalization options allow couples to choose their favorite rings and customize them to make the rings even more special.
The matching rings for couples come in a vast number of styles, designs, and colors. They come with different gold types, gemstones, and engraved text. The sizes are the same as always, ranging from sizes 4.5 to 9. Similarly, couples can request different sizes if it is needed and JewelOcean will be happy to accommodate the requests. The couple rings for him and her come in 10k or 18k gold, both in white gold and rose gold. They feature princess cut or round cut diamonds and vary in style. The styles range from simple white gold bands to bands with a single diamond to bands with beautiful diamond hearts. All of the couple rings match perfectly and will display the love of any couple.
There are several options with regard to customization of the matching couple rings. JewelOcean offers the option to engrave the rings with personalized messages. Of course, this option incurs a minimal additional cost. Couples can also customize each ring with their specific birthstone, making the rings even more unique. These options will allow couples to purchase rings that were specifically made for them.
The costs of couple engagement rings on JewelOcean.com are extremely reasonable. The cost for couple rings is the same as the cost for an individual ring. The prices range from $549 to $1,500, allowing customers with low budgets to purchase the rings. Payment layaway options are available for couples who want to extend the payment period over six months. Sales are also commonly taking place on the website, so be sure to check out the latest closeout sales at JewelOcean.com.
JewelOcean is a leading online jewelry provider, specializing in diamond couple rings for over 10 years. Customer satisfaction is guaranteed with the customer service agents available 24/7. All of the diamond couple engagement rings by JewelOcean are made with real gold and real diamonds, and each purchase is accompanied by a certificate of authenticity. There is more information regarding couple rings at JewelOcean.com.