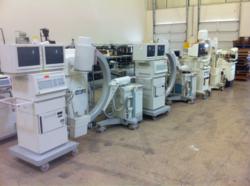 Las Vegas, NV (PRWEB) November 06, 2012
A live auction is scheduled to sell over a thousand pieces of medical equipment from the former Barstow Community Hospital and other national consigners. Various types of equipment will be sold including radiology, anesthesia, monitoring, surgery, endoscopy and much more.
Centurion Service Group will be hosting the sale on Wednesday, November 7th at their Las Vegas warehouse located at 6120 N Hollywood Blvd, Suite 109, Las Vegas, NV. The live auction will start at 9am PST. Anyone can participate in the auction including those who cannot make it on-site. Centurion Service Group offers online simulcast bidding, as well as on-site bidding. Registration information and the complete list of equipment can be found on their website http://www.centurionservice.com.
A few highlights of the sale are a GE OEC 9800 ESP C-Arm, Intuitive Surgical Da-Vinci Robotic Surgical System, OSI Jackson Table, Lumenis Versa Pulse Power Suite Holmium 100W Laser, GE Logiq 7 Ultrasound with four Probes.
Centurion Service Group, LLC is the largest medical equipment auction house in the world, with locations in Chicago, Las Vegas and London UK. Centurion Service Group, LLC works with hospitals, health systems, surgery centers, radiology centers, and other medical facilities to sell their surplus medical equipment and other assets.