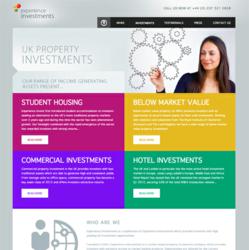 "Total property investment returns increased in the UK increased in Q3 2012 to 1.3% compared with 0.4% in the previous quarter," Jones Lang LaSalle report.
(PRWEB UK) 8 November 2012
Due to an increase in demand for alternative UK property investments that offer on average 10 % NET annual returns, London-based property agent, Experience International has launched a new website devoted to showcasing their exclusive range of income generating assets in the UK.
Across the board the performance of UK property assets have performed well over the course of 2012. Stats from CBRE show that almost # 800m was invested in student property in the 1st 6 months of 2012, more than twice the amount invested in H1 2011, proving that investment in this area is becoming popular.
And it's not just the student market which is performing well. The most recent Jones Lang LaSalle's Europe, Middle East and Africa Hotel Report has stated that UK hotel investment sector continued to be the strongest market in Q1 2012, securing 52 % of the total EMEA transaction volume.
The UK's buy-to-let market has also seen a rise in demand with 91 % landlords of surveyed in the most recent Paragon Mortgages PRS Trends saying that they believed rental demand in the UK was stable or growing. An increasing demand from the UK buy-to-let market has developed a new demand for below market value property, which Experience International promotes as a high-yielding option.
Commercial property for example office investment has also seen an influx in investment with analysts now warning that demand for investment is currently outstripping supply. Jones Lang LaSalle has forecasted that the interest for office investment in London will remain strong throughout the rest of 2012.
The new website, http://www.ExperienceInvest.com will be the destination of Experience International's most sought-after UK investment opportunities in today's market place and will display a wide range income generating assets to investors across the world.
From the student property for sale to below market value property, from hotel room investments to commercial investments, the new site will serve as an authority resource for high-yielding investment opportunities in the UK and will feature the latest news, market trends, and reports, along with commentary and analysis from market authorities.
"Experience Invests provides investors with direct access to our leading UK property investments and acts as a portal for those searching for information about what investments are available in today's market," Steven Worboys, MD of Experience International commented. "The new website will play host to our top performing asset classes and will provide investors with market information, news and details about existing and new investment opportunities," Worboys continued.
The website is user friendly and has been designed for ease of use with simple color coded segments for the different type of investments being shown with usability and functionality in mind.
To view the website design and range of investment options current being showcased then visit http://www.experienceinvest.com