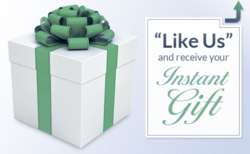 Atlanta, GA (PRWEB) November 08, 2012
Peachtree Petals, a leading Atlanta florist specializing in quality floral arrangements and free same-day delivery, announces their Autumn Deal for the month of November. This is in an effort to increase online sales and visibility via their website, in conjunction with social media network giant Facebook. The honored Master Florist seeks to become the premier leader of floral arrangements, wedding bouquets, wedding events, and floral decor.
The featured Autumn Deal is strategically located on the home page for all incoming shoppers to view. The offer is if the customer "likes us" on the Peachtree Petals' Facebook page, they will receive a free gift with their order. A click on the Autumn Deal ad takes the customer directly to the offer. Currently, the Autumn Deal is an assorted gift of a free box of chocolates. The shopper is provided a promo code to enter at the point of checkout, right before they pay for their floral arrangement or assorted gift.
Peachtree Petals promotion of their Autumn Deal is part of their commitment to e-marketing for business growth. Social media is where customers spend a lot of their time, and the popular florist is after expanding its' client base by being where they are. The company's approach is to give customers great deals on stunning floral arrangements and create brand loyalty. The Autumn Deal is one of many promotions being advertised by Peachtree Petals. They are not only on Facebook, but Twitter and other sites as well.
Honored as a Master Florist, Peachtree Petals is a recognized leading floral provider of bouquets and floral services. Peachtree Petals has the best designers with over 50 years of experience, making sure all floral and wedding bouquets are beyond compare. With their own wedding consultant, Peachtree Petals successfully meets the needs of brides all over Atlanta. Servicing the Atlanta and Metro Atlanta areas, Peachtree Petals prides itself on their simple approach to meeting floral needs, even providing free same-day delivery.