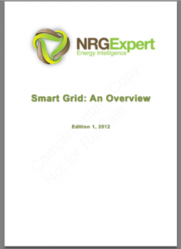 Smart Grid sector forecast to grow to 100 billion by 2020
(PRWEB UK) 7 November 2012
NRG Expert's free Smart Grid Overview Report was released onto the site last month and is now available to download for just 7 days more.
To immediately request and download this month's Smart Grid Overview Report, before it is removed from the site, visit NRG Expert:
http://www.nrgexpert.com/data-of-the-month/
The Smart Grid Overview Report provides an analysis of the smart grid market, the business case for the smart grid and barriers to the development of the smart grid. It also provides an analysis of traditional and future electric grid systems.
With the future value of the Smart Grid sector forecast to grow to 100 billion by 2020, governments, companies and individuals are researching this market heavily and this report provides some extremely useful energy data and information. Chinese leaders are even going so far as to say that they view smart grid technology as the 'next industrial revolution'.
NRG Expert holds millions of lines of world-wide energy data, from hundreds of trusted sources. A full list of energy reports, directories and databases is also available on the website: http://www.nrgexpert.com/
To request this month's free Smart Grid Overview Report, visit NRG Expert before 15 Nov 12:
http://www.nrgexpert.com/data-of-the-month/
Background information
NRG Expert is a London and Toronto based energy market research publisher. NRG Expert provides up to date information, energy data and analysis on worldwide energy markets, including electricity, smart grid, natural gas, coal, nuclear, renewable energy, water and waste, and all elements of energy infrastructure.