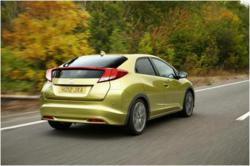 (PRWEB UK) 6 November 2012
HONDA'S Civic has suddenly got a lot more interesting for company car drivers thanks to a new low-emissions 1.6-litre diesel option. The company calls it a "no compromise car for the corporate market".
Honda Civics fitted with the new engine will arrive in UK dealerships early next year – and there's no road tax to pay, thanks to CO2 emissions of 94 g/km.
Perhaps more importantly, CO2 emissions of 94g/km mean a company car tax banding of just 13% in the 2013/14 tax year.
Fuel consumption is impressive, too: 78.5 mpg.
Prices start at £19,400 for the base SE model, rising to £20,595 for the ES and £23,175 for cars with the top EX trim level, which has been upgraded with features such as a DAB radio.
Honda has traditionally been a leader in engine design, and its larger 2.2-litre diesel is well regarded, but Honda has been left behind by the trend towards ever-smaller, more powerful, and more company car tax efficient diesel power units – until now.
The new Honda 1.6 diesel engine – badged i-DTEC – has been designed specifically for the European market and produces a competitive 120 PS and 300 Nm. All 1.6 diesel Civics will have six-speed manual gearboxes.
Honda has also indicated that the company car tax efficient 1.6-litre iDTEC diesel will be offered in the new CR-V SUV (read the business car review) later next year where it should also transform the car's business car tax position.
Like the Civic and the CR-V, the new engine is produced by Honda in the UK.
For more information, visit Business Car Manager at: http://www.businesscarmanager.co.uk/