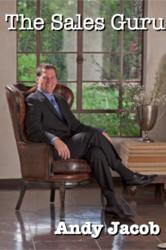 Jacob's New Book Is An Easy Read, and Very On Point

Carolyn Chriss, Editor
(PRWEB) November 06, 2012
Andy Jacob's Best Seller "Why Not" is Now Available On Amazon
The Sales Guru Andy Jacob best Selling Book "Why Not" is now avilable on amazon. Why Not? "How Two Words Can Change Your Life" is the newest Nationwide Best Seller from Andrew Jacob on Amazon. Have you ever wondered how you can make your life better and more fulfilling? Are you tired of leading a boring life? Are you looking for more excitement, more challenge, more respect, and more opportunity? It is all possible by simply learning the simple lesson from "Why Not? "
Jacob, the only International Sales Guru who promises to double his client's existing business by providing Executive Coaching and Business Training, offers his "Why Not Book" on amazon and also offers the book free of charge to CEO's through his website, AndyJacob.com
Andy Jacob is very familiar to many Americans who have seen him featured on Local and National Television, have heard him on Syndicated Radio Shows, and have read about his Sales and Marketing Expertise in National Publications, including the Wall Street Journal. Mr. Jacob has been spotlighted on "Oprah," and has been a guest Financial Expert on NBC, CBS, ABC, FOX, Bloomberg TV, TNT, and many others. Jacob is the author of many published articles and periodicals including the "My Sales Force Is Better Than Your Sales Force" and "Why Not," now available on Amazon.
Known to many as one of the world's premier Sales and Marketing Gurus, Andy Jacob co-founded World Wide Financial Services in 1989, Founded Inc. 500 Media Company LeadPile in 2003, and is the Founder of Jacob Media Group, a leading creator, publisher, and distributor of digital entertainment and content.
Jacob says, "For CEOs and decision makers serious about doubling their business, I am delighted to offers select consultative services." Elements of Mr. Jacob's sales and marketing training have been used in over 8000 businesses throughout the United States. Jacob's high-powered consulting is available to select CEO's who are serious about market domination. Jacob says, "We have assembled a powerful team that can help assure your skyrocketing success."
Jacob believes in accelerated revenue growth through a systematic approach to the sales and marketing cycle. Jacob is the only Sales and Marketing Expert in the world to guarantee his results. Mr. Jacob believes that an organization's growth is dependent upon its leadership, and leaders get paid to identify opportunity. Obviously Mr. Jacob believes that a huge opportunity lies in having an entire sales organizations closing and conducting its business at the highest percentage possible.