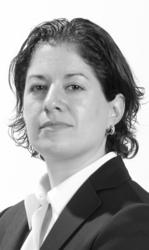 Being gay and in the field of criminal defense I'd like to think I bring something different to the defense of my clients - and it shows in my results
Hartford, CT (PRWEB) November 09, 2012
Ruane Attorneys At Law, LLC, Connecticut's largest criminal defense firm is pleased to announce that Attorney Teresa DiNardi has been named a partner in the firm effective November 1, 2012. Attorney DiNardi joined the firm in 2006 after graduating from Western New England College of Law. Attorney DiNardi has developed a reputation for handling DUI cases, having been profiled in the New York Times as well as local media and was selected as the Connecticut Law Tribune's top 50 women attorneys in 2010.
"I take great pride in the development of Attorney DiNardi as an advocate for our clients," said Attorney Jim Ruane, the firm's senior partner and board certified attorney in Criminal Trial advocacy. "She has handled a trial with me, appeared in the appellate court and regularly gets phenomenal dispositions for her clients in the courts around Hartford."
Attorney DiNardi will manage the firm's Hartford area office and supervise the caseload and associates in the Hartford, New Britain, Bristol, Manchester, Rockville, Enfield and Middletown Courts. "I love going to courthouses every day and fighting for my clients - this new chapter in my life will allow me to continue my advocacy and ensure that our clients get the best representation we can give."
Attorney DiNardi lives in Wethersfield and is co-owner of the Spicy Green Bean in Glastonbury with her wife, Katherine Denisiewicz.