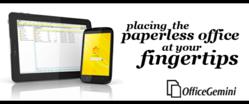 Save More By Using Paper(less)
Houston, TX (PRWEB) November 07, 2012
Office Gemini, a market leader and innovator in document management and scanning technologies announced their planned attendance to the Aiim hosted Document Management Service Provider Executive Forum. The event will be held in Albuquerque, New Mexico on November 8-10, 2012 at the Hyatt Regency Tamaya Resort and Spa.
The event is geared specifically for Service Bureaus, Resellers and Integrators in the Document Management Industry. This event positions Office Gemini in the center of their ever evolving target market, allowing them to discover first-hand what consumers are looking for in a document management solution.
About Office Gemini:
Office Gemini is an international software manufacturer focused in the document management and document scanning industry. Office Gemini distributes its software products through a vast worldwide network of value-added resellers (VARs). From great software products and implementation assistance to strategic document management and scanning consulting services, we are able to provide a wide range of services to our end users and VARs equally. Our sales and support specialists are not only experts on our own software products, but are also very knowledgeable about the industry as a whole and can help with complementing software and hardware products. The flagship software Dokmee is used by thousands of customers in more than 30 countries and is available in 8 languages. Office Gemini is headquartered in Houston, Texas and has offices in Europe and Brazil. For more information on Dokmee and office Gemini, please visit http://www.dokmee.net/ and http://www.officegemini.com/.
# # #