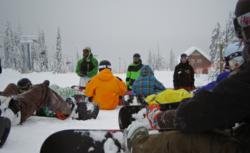 The opportunity to turn a passion in to a way of life
London (PRWEB UK) 8 November 2012
It is a dream job for the enthusiasts that have a burring desire to live and work at a winter resort. The opportunity to turn a passion in to a way of life can be what some people only dream of, whilst others enjoy. Surprisingly, anyone with the commitment, an open mind to try new things and an eagerness to push their limits can complete a snowboard instructor course and become qualified. For those that venture down this snow covered career path can enjoy an extremely fun and rewarding job and, let's face it, cruising fresh powder on a Monday morning sure beats that dreadful commute. To become a snowboard instructor is one of those jobs many people dream of.
The crunch... How much does it pay?
Nowadays, very few take the dive in to the instructor industry full time, but for the dedicated few, the rewards are not to be missed. For example, in Canada, a starting salary for a level 1 certified instructor would be between $10 to $12 per hour. However, the more someone progresses their snowboard instructing career, the more financial gains are available – and, let's be honest, earning money is important to fund a snowboarding lifestyle! Jumping up to a level 2 will increase the salary by a further $2 to $6 – and it doesn't stop there! Continuing to move up towards a level 4 standard which is the highest tier, or obtaining various other certifications such as freestyle and avalanche awareness can really help boost wages. The clever ones even dual certify as a ski and snowboard instructor to ensure maximum working hours each day.
Deciding on the best path after completing a course is crucial especially if building a successful career as an instructor is a priority. Building a solid reputation will mean benefits from the local and international sponsors in the form of discounts and free gear, - not to mention all the fantastic pro deals that come with being an instructor.
With reputation in mind, also securing a solid customer base will ensure repeat customers meaning a further increase in wages as these are commission based. The goal is to work towards as many requests and private lessons as possible.
Are the working hours extremely long?
Expect to be working at least 25 hours per week, split in to 2 to 3 lessons each day. Depending on the time of year, peak times will likely demand more lessons, so more hours will be available on the hill.
What's my day to day routine?
What exactly it is that an instructor does on a daily basis? Yes, the answer is fairly obvious; teaching someone how to snowboard, but who will be in the lesson can vary. It could be children, teenagers or adults, from complete beginners through to people who can already rip. This means that every day is a new challenge, and adds to the excitement of the job.
On days where lessons are few and far between, there is the option to have a free ride and enjoy some down time, or take part in training sessions if the snowboard school run them. They are a great opportunity to improve technique and will help anybody reach those higher-level certifications, plus they are free!
Outside of teaching the public, there will also be instances where an instructor may be asked to assist in various events, slope safety, or a mountain sweep towards the end of the day to look for lost or struggling riders.
When the day draws to a close, possibly one of the best parts of being an instructor is yet to come, the après scene! Don't forget this is a job for the social butterflies!
What are my options when the snow starts to melt?
Working as a snowboard instructor also means there are fantastic opportunities to travel the world and make new friends. Teaching snowboarding is not limited to the months of December through to April. Once the northern hemisphere season is over the southern hemisphere is freezing up, think about heading to Australia, Chile or New Zealand. Following the winter seasons ensures work is available pretty much all year round and allows for more traveling opportunities.
Here was just a glimpse in to the world of working as a snowboard instructor. For help, guidance and comprehensive advise contact a team member of NothinButSnow, who would be more than happy to assist you.
This article was written by NothinButSnow. NothinButSnow run a market leading snowboard instructor course in beautiful British Columbia, Canada.