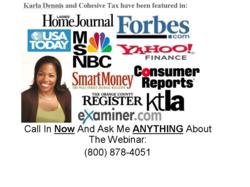 (PRWEB) November 06, 2012
Listen to this free webinar online via computer or over the phone, the informative presentation by Karla Dennis on learning about multiple business and tax strategies that the BIG Profit businesses are using to prosper by earning more and paying less.
Karla Dennis was featured in the September 2012 Edition of Forbes as one of The Leading Successful Business Women……..Learn why!
She saved her clients 2 million dollars in taxes this year: Learn How
253 Clients changed their entity structure this year learn Why
91 Kids where added to payroll. Learn why
34 clients started brand new businesses with Karla's guidance
78 clients increased their tax returns. See how it was done
146 clients paid less taxes under Karla's supervision
14 clients created products to sell which increased their income - learn the strategies
Join Karla Dennis - Tax Strategist as seen in Forbes Magazine as she presents to you this exclusive webinar which was originally for the Live Out Loud Community and Loral Langemeier. The presentation teaches multiple ways to increase income and reduce taxes.
Karla strategizes by sharing 7 points of note for taking or starting a business and moving to the next level; learn to keep more cash in-house and lessening the impact of losing cash to unnecessary taxes your pocket.
Join us for about 30-45 minutes.
Click Here To Register & Listen Now.
Karla Dennis is CEO and owner of Cohesive Tax™, a tax relief firm.
Karla is actively sought as a tax expert by the media and has been quoted by Smart Money, CNBC, Consumer Reports and MSNBC. She actively speaks to various business leaders, executive organizations, trade groups, community factions and civic gatherings, and area Chambers of Commerce.