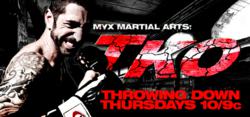 At Myx Martial Arts: TKO, the rules are simple: the strongest survives.
Redwood City, CA (PRWEB) November 07, 2012
Action intensifies with a new show that features the world's most aggressive and highly-skilled MMA fighters. Myx TV launches the new series, Myx Martial Arts: TKO on November 8 and airs all-new episodes on Thursdays at 10pm/9c.
Myx Martial Arts: TKO is 60 minutes of all out MMA action featuring some of the finest fighters like Tito Ortiz, Quinton Rampage Jackson, Chuck Liddell, Urijah Faber, Dan Severn, plus the hottest up-and-coming fighters from all around the globe.
The episodes will feature all-time classic fights from top promoters like Hook n Shoot, Gladiator Challenge, World One Presents, X1 Hawaii, and Cage Combat.
"Myx TV is excited to premiere Myx Martial Arts: TKO – a weekly series featuring an hour of the best male and female MMA fighters around," says Joy Bovatsek, Head of Programming for Myx TV.
At Myx Martial Arts: TKO, the rules are simple: the strongest survives. Catch the all new series on Myx TV on November 8th.
###
ABOUT Myx TV®:
Myx TV is the premier Asian American entertainment and lifestyle cable network in the United States. Dedicated to airing the best in entertainment, Myx TV's programming is a unique combination of original and syndicated shows, including magazine talk shows, interactive music video countdowns, independent film and Asian cinema, and animation, airing 24/7 in English. Broadcast in over 10 million households across the country it provides a platform for Asian Americans on mainstream television and is also represented on its official website by a community of bloggers from coast-to-coast. To find Myx TV in your area and for exclusive content online, visit http://www.myx.tv.